When going to the movies, I'm sure everyone has had the idea of "I wonder what it would be like to play videogames on this thing!" Well, as many gamers might know, projectors might have incredible display size potential but are plagued by input lag and low refresh rates. The good news is that the folks over at Optoma have decided to fight against this stigma. The new Optoma UHD50X 240Hz Cinema Gaming Projector not only promises a reduction in input lag but an incredible refresh rate too. How incredible you may ask? Well, it's the world's first 240Hz gaming projector. 
With big expectations to fulfill, can the Optoma UHD50X 240Hz Cinema Gaming Projector be the next gaming innovation, and furthermore, how well will it fare as a home theatre projector for you Netflix enthusiasts?
When inspecting the Optoma UHD50X Gaming Projector for the first time, you'll notice that it's compact and light. The projector weighs around 8.60 lbs and can be mounted or left standing anywhere you'd like. Those who dread having to permanently fit projectors into their ceilings will be pleased that the UHD50X is portable and that the 1.3X zoom shift switch can adjust to perfect clarity in seconds.
At the top of the Optoma UHD50X, you'll find all the buttons needed to turn on the projector, navigate and select the menus. Additionally, Optoma has included a remote that can control things like the contrast, brightness, aspect ratio, input device, and volume. At the back is where you'll find all the connectivity ports which include: HDMI 2.0, HDMI 1.4, VGA-in, audio-in, audio-out, USB 2.0, and USB power. Please note that the USB ports cannot be used for playing media files.
Refresh Rate, Resolution, and Input Lag
If you're interested in the Optoma UHD50X the first thing you're likely after is that sweet 240Hz refresh rate. Before you get too excited and plug your console in, you need to consider the limitations of the projector. This isn't Cyberpunk 2077 and we aren't going to be experiencing 240Hz at 4K anytime soon. The gaming projector utilizes HDMI 2.0, and in order to have lower input lag, you will have to turn on 'enhanced gaming mode'.
With enhanced gaming mode, Optoma states you can expect the following performance in terms of resolution, refresh rate, and input lag:
4K @ 60Hz = 25.8ms

1440p @ 60Hz = 23.8ms

1080p @ 60Hz = 23.8ms

1080p @ 120Hz = 18.2ms

1080p @ 240Hz = 15.7ms
What we can see from this data is that the Optoma UHD50X should be branded as "The world's first 240Hz 1080p Gaming Projector", these are still incredible stats but those looking for 1440p and 4K high refresh rates may be disappointed. It's also a good idea to think about the input delay versus picture quality. If you're a competitive gamer, a 18.2ms delay on console or a 15.7ms delay on PC might be a bit much. Most gaming monitors range between 1 and 5 ms in terms of response time. 
But, let's be honest here, if you're looking for a gaming projector, you're likely more interested in stunning visuals and a bigger display. For those looking for the best displays for competitive gaming, we suggest you take a look at our Best Gaming Monitors List instead.
Performance and Picture Quality
The Optoma UHD50X has some impressive specs behind it to back up its "immersive gaming experience" and "true 4K UHD" promises. The native resolution is 3840 x 2160, the projector has 3400 lumens which provides a very bright image for any environment, and there is an RGBW 8 segment color wheel that achieves 1.07 billion displayable colors.
Additionally, the introduction of High Dynamic Range (HDR / HLG) lets images have more depth and color without the sacrifice of losing detail. Optoma has also included 3D support at 1080p and a throw ratio capability, allowing you to project an image around 100 inches at approximately 9ft away.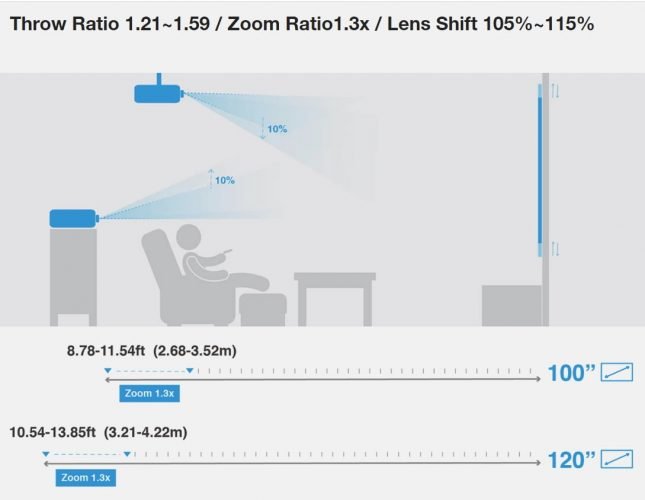 Moving onto performance, we will first investigate whether you should make the change from a PC monitor or TV Screen. Briefly, we discussed the Optoma UHD50X input lag, and even with its enhanced gaming mode, you should probably avoid the UHD50X for eSport titles where reactions are everything.
However, if you're looking to play games at 4K @ 60Hz then you're in for a treat! The gaming projector produces vibrant shades and warm colors, which is a first for many "gaming projectors." In the past, we have seen darker colors look slightly washed and if the light was too bright, the image would suffer from clarity and overall intensity. Optoma has done a really nice job with the HDR feature.
If you're after that 240Hz feature, we can see you making good use of it on PC. Remember, although the projector might have an amazing refresh rate, you still need the hardware to back it up. As the new generation of consoles are being released, we are uncertain if you're going to be reaching such high frames per second with their new hardware. However, 1080p @ 120Hz is still a viable option if you want to get faster response times. 
There is a trade-off though: if you make the projected image too large, the image density at 1920 x 1080 can lack the crispness of 4K. The very reason you're going for a high refresh rate gaming projector would likely be to make use of the increase Hertz. Whereas you could spend less on a 4K 60Hz projector.
You, therefore, have to make a choice in what you intend to do with the Optoma UHD50X. If you're going to make the image smaller but play at 1080p @ 240Hz then it's going to provide a clear image that is butter smooth. 4k @ 60Hz will provide stunning visuals but somewhat lack the responsiveness of 120 – 240 Hz. Therefore, there is no middle ground here, either you go for the visuals or the performance with hindered density.
With that being said the UHD50 gaming projector also serves as an excellent home theatre system. Movies look stunning with great color accuracy, and if connected via 7.1 surround sound it will feel like you're in the cinema. The projector does come with a built-in speaker, but we would advise an additional home theater speaker system to make full use of the 'immersive' experience. 
Finally, you might be asking yourself how long you can expect the lamp inside the projector to last? Optoma estimates that the UHD50X has an approximate lamp life of up to 15 000 hours or around 4 hours of playtime a day for 10+ years. In other words, you'll get as much, or even more, use out of it when compared to your standard television or gaming monitor.
| | |
| --- | --- |
| Display Technology | DLP 4K UHD chip |
| Brightness | 3400 ANSI Lumens |
| Native Resolution | 4K UHD 3840 x 2160 |
| Contrast | 500,000: 1 |
| Zoom Type | 1.3x Manual |
| Projection Screen Size | 34.1 " – 302.4" |
| 3D Support | Full 3D |
| Displayable Colors | 1073.4 million (10 bit) |
| Input Lag | 25.8 – 15.7 ms (enhance gaming mode) |
| Refresh Rate | 60 – 240 Hz |
The Optoma UHD50X might lean towards the expensive side of displays but it comes packed with features and home theatre potential. The image quality is crisp, colorful, and deep – surpassing most current projectors on the market. The high refresh rate, which is activated by the enhanced gaming mode, also has a relatively low input lag. Overall, this makes the Optoma UHD50X a worthwhile option if you want a massive display for gaming and something that's going to take your Netflix and entertainment sessions to the next level. 
Those looking for 240Hz will need to be satisfied with a 1080p limitation, otherwise, you can play at 4K at 60Hz which will still provide great visuals. The Optoma UHD50X is not a competitive gaming projector, so esports players beware. Other than that, the Optoma UHD50X will do great, turning anyone living room into a cinema, or better yet, the new highlight of your LAN party with friends.