Mechanical keyboards come in a wide variety of features, sizes, and switches. Gamers will need to weigh up the benefits and drawbacks of different models, but the deciding factor will always be based on user preference. Whatever your interests, everyone wants to get the most out of their hard-earned money, and that's where the HyperX Alloy FPS Pro comes in. The Alloy FPS Pro keyboard focuses on quality and performance over expansive features. With its ultra-minimalistic tenkeyless design, Cherry MX mechanical switches, and 100% anti-ghosting, can the HyperX Alloy FPS Pro live up to its name and level up your gaming experience?
Ultra-Minimalistic & Compact design
Created without a Numpad the HyperX Alloy FPS Pro will save desk space and provide maximum mouse movement.
The N-Key rollover will allow you to press all keys simultaneously and perfectly register each one. The 100% anti-ghosting feature also makes sure games are responsive with minimal input delay.
The red lighting can be toggled on and off and includes 6 different modes. There are also 5 brightness levels that can be adjusted to the darkness of your room.
Cherry MX Mechanical Switches
Choose between red and blue Cherry MX mechanical switches for a clicky or quiet keystroke. Cherry MX balances both accuracy and high quality to provide the most responsive gaming experience.
The HyperX Alloy FPS Pro is a compact tenkeyless peripheral that measures 1.4 inches in height, 14.2 inches in width, 5.1 inches in depth, and approximately 2 lbs in weight. The plastic frame on the bottom has been reinforced with a steel frame at the top, and the overall build quality feels durable and well-made. In terms of ergonomics, the keyboard's kickstands have one incline level, which does not include a wrist rest, however, this can be purchased separately. The kickstands do have rubber tips, so they'll provide a nice amount of grip whatever surface you're using.
The Alloy FPS Pro comes with red backlighting that can be toggled on and off. There are six lighting effects to choose from, which include: static, breathing, trigger, ripple, wave, and FPS. These lighting effects can illuminate specific keys when touched, highlight commonly used gaming keys, or produce a back-and-forth illimitation dance across the keyboard. Their brightness can also be adjusted by using the arrow keys. Unfortunately, there is no additional software included, so you'll be restricted to red and these available effects.
It should be noted here that unlike some gaming mechanical keyboards the Alloy FPS Pro does not come with any additional media keys or a number pad. The board really is minimalistic and caters to people whose primary focus is gaming. With that being said it offers amazing portability with its smaller size and detachable USB cable. If you're a gamer looking to compete at tournaments, the HyperX Alloy FPS Pro will easily fit into your backpack for easy storage.
Most gaming keyboards fall into three categories of mechanical switches: blue, red, and brown. The HyperX Alloy FPS Pro is available in red and blue switches. Red switches are linear and can be described as smooth with minimal resistance. This means that they will not have a 'bumpy' feeling and will remain quiet without the clicking sound. They may be prone to accidental keypresses because of their smoothness, but most gamers will accept this for the trade-in low audible noise.
Blue switches are the opposite and have a tactile bump and loud clicking sound. The advantage is the increased resistance and noticeable 'click' make sure that you know your keypress has registered. Blue switches are for those who will likely be doing more 'work' than gaming. Just be sure that your gaming headset isn't too particularly sensitive or it will pick up every keystroke while your microphone is active.
With that out the way, not all mechanical switches are created equal. The reason for the hype (haha) around the HyperX Alloy FPS Pro is the use of authentic Cherry MX key switches. The softer reds and clicky blues just cannot be matched in terms of comfort and speed. Other brands like Kailh have tried to compete with the German manufacturer, but nothing yet quite feels like Cherry MX.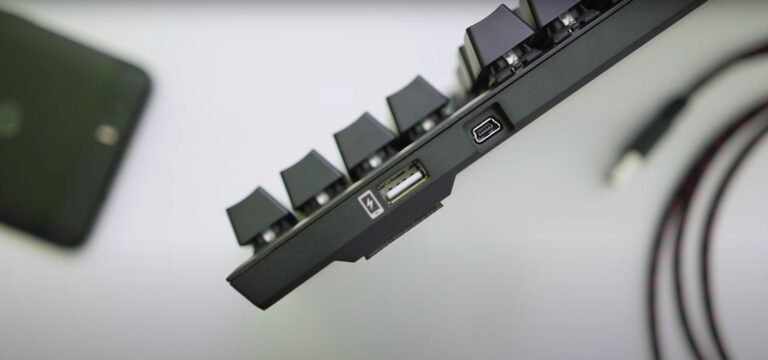 As expected, the HyperX Alloy FPS Pro feels smooth and responsive without causing any fatigue in our fingers over a long period of time. The ABS keycaps also do not get slippery if your hands are particularly clammy and are stable with minimal wobble besides the spacebar. When using the red switch edition, we scored around 120 words a minute with just two errors on the Alloy FPS pro. Both the red and blue switch editions should be fine for office use as long as you're not smashing away at the keys. As previously stated, the spacebar has some rattle to it but it isn't anything that would cause a major distraction.
The keyboard really shines when playing games though. The removal of the keypad will leave more space around you which is a joy for those playing at low sensitivities. If you have the habit of knocking your mouse into your keyboard when attempting a fast mouse motion then you'll appreciate the extra desk space. The Cherry MX switches also provide excellent accuracy in shooters, where peaking around the corner should have as much low latency as possible. Whatever game genre is your favorite, the Alloy FPS Pro simply feels good.  
The HyperX Alloy FPS Pro comes with a 1.8m detachable cable that has been customized with red and black accents. The cable will be connected to your PC via USB 2.0 and features a Micro-USB connection at the other end. In terms of compatibility, the keyboard will work perfectly with both Windows and Linux, however, macOS had some issues. During testing, we found that the Pause / Break and Scroll Lock keys did not properly function on macOS.
The HyperX Alloy FPS Pro provides excellent value for money if you're trying to keep your budget around 70 dollars. Sure, there are other options available on the market that include more customization and flashier LED lighting, but in terms of raw gaming performance and comfort, the Alloy FPS Pro is a clear winner. Those Cherry MX switches are just too smooth and responsive when compared to cheaper alternatives. If you're looking for something simple, compact, and durable, then look no further than the HyperX Alloy FPS Pro.