Best Gaming Monitors
When assembling your gaming rig one of the most important additions is going to be your monitor. You're likely going to be looking at it for a couple of years so it will be in your best interest to spend as much as you can afford. But wait, your brain might be scrambling at the idea that you need to buy this year's AMD RX 6000-series or Nvidia's sought-after RTX 3080 first. However, although a high-end GPU will provide your PC with amazing frame rates and performance, there's no point in investing if you're going to cheap out on a lackluster display.
Now we're not saying go crazy and blow your entire budget on a high-end gaming monitor, but make sure the monitor you're buying will at least be able to show you what your PC is capable of. In other words, a 1080p monitor is great, but if your GPU can now handle 4k, you're simply not utilizing your PC to its full potential. Luckily, we have compiled a list of the best gaming monitors and what to look for. In this guide, we have included a wide range of displays, from high refresh rates for competitive gamers to beautiful 4k displays for those looking for a single-player experience. Read below for a full guide on gaming monitor specs and features, and which one would be the best fit for you.
---
Basic Terminology
Before we get into the finer details of gaming monitors it is important to know three basic concepts.
1. Resolution
Firstly, the resolution is the number of pixels covering the screen. The most common resolution nowadays would be 1920 x 1080.
2. Refresh Rate
Secondly, the term refresh rate is often brought up with those interested in high-performance gaming. Refresh rate can be described as the number of times per second that your monitor draws a new image. The refresh rate is measured in hertz or 'Hz' and will likely range between 60hz and 360hz. In most cases, the higher your monitor refresh rate, the smoother the experience.
3. Frames Per Second (FPS)
Finally, frames per second or 'fps' will also tie into your monitor. The fps of a videogame will be determined by your computer itself. The GPU, CPU, and RAM will work together to push out the highest possible fps in a gaming title. However, the hertz of your monitor will be the gatekeeper, even though you're pushing out 300fps (hopefully) in Counter-strike: Global Offensive, your monitor's refresh rate of 144hz perhaps will limit you to seeing 144 frames per second. Therefore, the higher the refresh rate and fps, the smoother the experience will feel with high-intensity, fast-paced games.
---
Our Selection of the 10 Best Gaming Monitors
Now that you know all there is to know about gaming monitors and their features, we've taken a look at the 10 best gaming monitors available.
1. ASUS TUF VG279QM 27-ich 280Hz 1080p Gaming Monitor
Specs & Features
| | |
| --- | --- |
| Resolution and refresh rate | 1920 x 1080 @ 280Hz |
| Display size | 27 inches |
| Connection types | Display Port 1.2, 2 x HDMI 2.0, Earphone Jack |
| Adaptive Sync | AMD FreeSync / Nvidia G-Sync compatible |
The ASUS TUF VG2790M is being branded as the world's fastest gaming monitor. It's our highest refresh rate monitor on this list and is available in both 24-inch and 27-inch editions. ASUS has gone above and beyond with this model as they try to manage speed, quality, and value all into one bundle. With its unique features and outstanding build quality, the VG2790M (or VG259QM for 24-inches) is going to be a favorite among all gamers.
Before getting into the features, it's important to know that the VG279QM is a premium monitor that comes with a premium price tag. The monitor is not ridiculously expensive, but it's around a hundred dollars more than your budget-entry 144Hz panel. If you've spent a lot on your PC, and you're looking for something that is going to last a very long time, then the VG279QM is going to be what you're after. In our opinion, the price is well worth it for the amount of playtime ahead.
To start off with, ASUS wasn't lying when they said it was the fastest gaming monitor. At the time of this review, the monitor measures 280Hz and there isn't much competition out there right now that can trade blows. Even more impressive is that the VG279QM has an IPS panel so you can expect some impressive colors to go along with your fast refresh rate. The high dynamic range technology provides higher contrast and a wider color range than traditional monitors. This means that whites and blacks are emphasized, and colors overall are vibrant. There's also a dynamic shadow boost feature that brightens up the dark areas of a game. This isn't like increasing the brightness for a washed color, but rather optimizing areas and making it easier to spot things while retaining a more neutral color balance.
The VG279QM also has additional built-in features that add to your gaming experience. The extreme low motion blur sync (ELMB) combines with adaptive sync to give you a smooth image that prevents ghosting, tearing, and stutter at high frame rates. Did we also mention that the monitor is G-Sync certified? Unlike the other monitors on this list, it is not simply G-Sync compatible, but rather G-Sync certified, which results in the technology working exactly how it is intended. It offers pure buttery-smooth performance while retaining excellent image quality.
Similar to the Dell gaming monitors, ASUS has also integrated their very own "GamePlus" which offers in-game enhancements such as an FPS counter and timer. You can also manually align the display and push it in any direction you'd like. The "GameVisual" technology also has seven pre-set display modes for different genres of games, so you'll be able to brighten, darken, or highlight whatever you're playing. Finally, there's a flicker-free technology to prevent flickering and reduce eyestrain over long periods of time.
From the outside, the ASUS VG279QM is just as impressive. It offers full height adjustment, swivel, pivot, and tilt. The design is pretty simple, but that will likely come in handy as it ages with time. On the back, you'll find a DisplayPort, HDMI, and earphone jack. ASUS has also been kind enough to include cables for each port.
If you're looking for the fastest refresh rate, but not willing to compromise on picture quality, then the VG279QM or VG259QM (24-inch version) is exactly what you're going to be after. Since it's an IPS panel you're also going to be paying a bit extra, but we doubt you're going to be hitting every game over 280fps on high settings anytime soon. The monitor is perfect for those looking for visual quality with rich detail, and those who want a complete competitive experience. The only thing you'll have to worry about is saving for your next GPU!
2. Dell S-Series S2719DGF 155Hz 1440p Gaming Monitor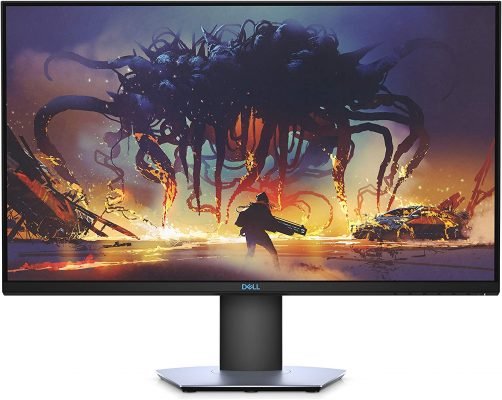 Specs & Features
| | |
| --- | --- |
| Resolution and refresh rate | 2560 x 1440 @ 155Hz |
| Display size | 27 inches |
| Connection types | Display Port 1.2, 1 x HDMI 1.4 1, 1 x HDMI 2.0, audio line out port, USB, Headphone port |
| Adaptive Sync | AMD Free Sync / G-Sync compatible |
The Dell S2719DGF 1440p Gaming Monitor may look like it's suited for the business professional, but on the inside, it's made for gaming. Its beautiful yet simplistic design offers a stunning 27-inch display at a 2560 x 1440 resolution. Even better is its 155 Hz refresh rate to keep up with competitive gaming while retaining crisp 1440p visuals.
When buying a 27-inch monitor, many consumers are tricked into a 1080p display and a high refresh rate. This isn't necessarily a bad thing, but if you were looking for a crisp image, the pixels may be visible in some games. The beauty of 1440p in a 27-inch monitor is that it keeps the image quality, but also gives you the advantage of a larger screen. The Dell S2719DGF would therefore be a great fit for those looking at a step-up from 1080p and a 24-inch screen. Those who wear glasses or have poor eyesight might find this a warm welcome so they can now see those headshots in the distance.
Dell claims that the S2719DGF has a QHD resolution, which includes 3.68 million pixels. Sure, the visuals are clear but those wanting very vibrant colors should be wary. Dell has used a TN panel on this particular model which allows for high refresh rates and response times but sacrifices color depth. On stock settings, you will need to adjust the contrast and brightness in order to get the monitor to look more alive. This isn't to say the monitor doesn't look great when it's adjusted, you'll just need to spend some time fiddling with the color. Programs such as GeForce can also increase saturation should you want to make things even brighter.
The Dell S2719DGF also comes with all the much-needed features you're looking for on a gaming monitor. The monitor supports both FreeSync and G-Sync so you'll be able to minimize tears and have a smooth gameplay experience. It has minimal input lag and a response time of 1ms so it will do nicely for competitive gaming. Finally, it also has a fully adjustable stand that gamers will be able to tilt, pivot, and swivel with ease. Streamers can also turn the monitor at a full 90 degrees in order to use it as a "chat" monitor, should they need to.
If you're looking for a monitor that is bigger than your standard 24-inch but still provides excellent visual quality, then the Dell S2719DGF might be for you. The TN panel may not be as vibrant as an IPS or VA, but it makes up for it with an incredible 155Hz smooth refresh rate.
3. BenQ ZOWIE XL2546 240Hz 1080p Gaming Monitor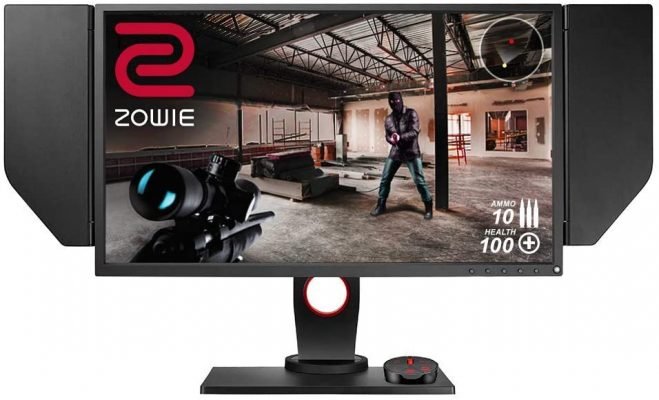 Specs & Features
| | |
| --- | --- |
| Resolution and refresh rate | 1920 x 1080 @ 240Hz |
| Display size | 24.5 inches |
| Connection types | 1.2 Display Port, 2 x HDMI, USB 3.0, DVI-DL, Headphone / Mic Jack |
| Adaptive Sync | G-Sync compatible |
The BenQ ZOWIE XL2546 monitor is our pick for the best esports experience. It measures 24.5 inches wide and has an incredible 240Hz refresh rate. Some of you may have heard about the XL2546 already, but for those of you who haven't, it is a favorite among the pros and e-sport enthusiasts alike. With features tailored to give you a distinct advantage in FPS games, the XL2546 offers a smooth gaming experience with visual clarity to match.
When you first gaze upon its matte black beauty, you'll realize that the ZOWIE XL2546 is rather different when compared to its competitor's build style. There is a removable shield that blocks out outside interference, and also includes an "S-Switch" that lets you save custom profiles and change settings to your liking. Additionally, the monitor stand is quite compact so you'll be able to sit close to your monitor in those clutch situations.
Similar to the outside, ZOWIE has tried something different with the display itself. BenQ's exclusive 'Dynamic Accuracy' or DyAc technology aims at maintaining clarity during fast in-game movements. The result is a sharper image when there's a lot happening on-screen. For example, if there's a bunch of grenades going off next to you and you're checking angles very quickly, the technology will try to stabilize the image to minimize clutter.
The DyAc technology is not the only thing that helps you get ahead with the XL2546. An incredible 240Hz panel has been included, so your gameplay remains fluid and precise. Just be sure that your PC can actually hit 240fps in-game if you want to make full use of the monitor. Additionally, there are also Color Vibrance and Black eQualizer technologies to ensure that you can adapt to any environment. The Black eQualizer technology is especially useful when you're on a darker map and want to increase brightness and visibility.
Similar to some Dell monitors, the XL series has also included pre-set game mode configurations. These will try to give you an automated brightness and contrast setting for that particular genre. The XL2546 includes an RTS, FPS, and RPG setting, but these can be fined tuned for your preference. Finally, if you're looking for something a bit bigger then the same 1080p 240Hz panel is found in the Zowie XL2740 27-inch monitor. The XL2740 has the same features as the XL2546, it's just an upgrade in size without the DyAc technology. Whatever you may choose, the Zowie XL series is your definite choice for a competitive esports experience.
4. AOC 24G2 144Hz 24″ Frameless Gaming Monitor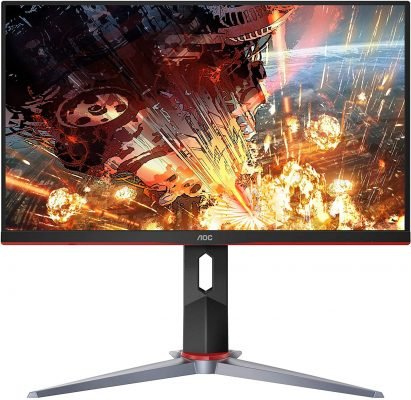 Specs & Features
| | |
| --- | --- |
| Resolution and refresh rate | 1920 x 1080 @ 144Hz |
| Display size | 24 inches |
| Connection types | VGA, Display Port 1.2, 2 x HDMI 1.4 |
| Adaptive Sync | AMD Free Sync / G-Sync compatible |
The 24" AOC 24G2 Gaming Monitor has everything you're looking for in a budget gaming monitor. The IPS panel that runs at 1080p and 144Hz offers some serious value for money. This particular series is available in both flat and curved with a sleek frameless finish. Additionally, the monitor has been made with a nice black and red decal design with a welcomed adjustable stand.
Taking a look at the screen itself, 23.8 inches is viewable and it comes bundled with AMD's Free Sync technology, for ultra-smooth gameplay and minimal tears. Those with Nvidia GPUs will also be delighted to know that the AOC 24G2 has also been added to the list of G-Sync compatible monitors. You can therefore take advantage of the Free Sync technology whatever GPU brand you may be housing in your PC.
The IPS panel also gives you a vibrant image and advanced viewing angles. Unlike some TN panels, the AOC 24G2 offers colors that aren't washed but rather high and rich in contrast. As with most IPS panels, the 144Hz refresh rate and 1ms response times mean that visuals are rendered smoothly with minimal ghosting or stutters. The monitor can be connected via VGA, Display Port 1.2, and 2x HDMI 1.4's, so for those looking for a console / PC gaming monitor, this will do nicely.
AOC has also included some very nice warranties along with the monitor. The 24G2 has a 3-year zero dead pixel and advanced replacement program, in addition to a 1-year accidental damage protection warranty. Finally, as previously mentioned the stand is adjustable and offers swivel and tilt functions. You can therefore rest assured your neck and comfort will be adequately supported once you find the perfect height. Overall, the AOC 24G2 is amazing value for money and is an excellent starting high refresh rate gaming monitor.
5. Philips 328E1CA 32″ Curved 4K UHG Gaming Monitor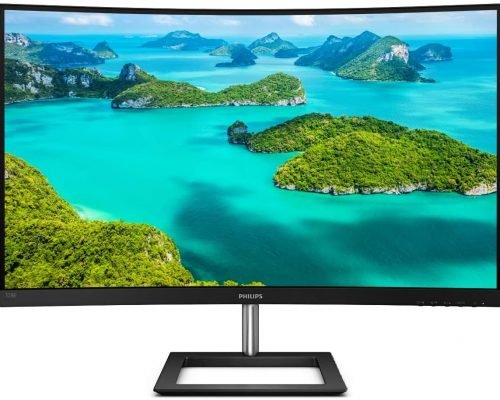 Specs & Features
| | |
| --- | --- |
| Resolution and refresh rate | 3840 x 2160 @ 75Hz |
| Display size | 32 inches |
| Connection types | Display Port 1.2, 2 x HDMI 2.0, and an audio-out |
| Adaptive Sync | AMD Free Sync / G-Sync compatible |
The Philips 328E1CA monitor provides a truly immersive experience with 4K UHD image quality. Unlike many other monitors on this list, the 328E1CA monitor is more of an 'all round' ultra-wide monitor for those focusing on picture clarity and stunning colors. With its curved display and VA panel, the 328E1CA will make your slower RPG titles look absolutely incredible.
From the start, it's important to note that this monitor is 75Hz. It's a definite improvement over a standard 60Hz monitor and also includes adaptive sync. Philips does not specifically outline the sync technology, but it can support both Free Sync and G-Sync. The result is a stunning 4K panel with vibrant colors that eliminates choppy gameplay with a fast response time. We wouldn't suggest this monitor for competitive games such as Overwatch or Counter-Strike: Global Offensive, but it will do very nicely with titles such as Red Dead Redemption 2.
At a beefy size of 32 inches, you may also be concerned that your eyes may tire. Ultra-violet rays from monitors can cause eye damage over time. Philips has therefore introduced a new 'low blue mode' in order to reduce the harmful effects LED's on your eyes. With that being said, they have not sacrificed anything in regard to the panel quality on the 328E1CA. The 4k display still delivers 3840 x 2160 images that are extremely detailed with its 'ultra-wide-color' technology. Greens are more natural, blues are deeper, and reds are vivid yet not overwhelming.
In terms of the design itself, Philips has opted for a more professional office look with a black and silver finish. The borders are thin, bringing focus to the screen, while the stand is sturdy and adjustable for different viewing angles. Also included is a cable management system built into the stand that can declutter desk space. Therefore, if you're looking for the 4K experience, with a bump in standard refresh rate, then the Philips 328E1CA might be what you're after. It will make an excellent choice for those looking for the best image quality, but still opting for a smooth gaming experience.
6. Alienware AW2518HF 240Hz 1080p Gaming Monitor
Specs & Features
| | |
| --- | --- |
| Resolution and refresh rate | 1920 x 1080 @ 240Hz |
| Display size | 25 inches |
| Connection types | Display Port 1.2, 2 x HDMI 2.0, 2 x USB 3.0, DVI-DL, Headphone Jack |
| Adaptive Sync | AMD Free Sync / G-Sync compatible |
The Alienware AW2518HF is another high-performance gaming monitor with a 240Hz refresh rate for competitive gaming. If you like the uniqueness of the Zowie XL2546, but it's a little above your budget, then the Alienware AW2518HF might be your next best option. From its signature Alienware design with custom backlighting to its 1080p TN panel, the AW2518HF provides buttery-smooth gameplay with its AMD FreeSync and Nvidia G-Sync compatibility.
As for the picture quality itself, Alienware has used a TN panel to ensure a fast refresh rate. If you're in the market for a 240Hz 1080p screen you're most likely going for performance and not overly vibrant colors. This does not mean the AW2518HF does not provide stunning visuals, they're very clear and the 25-inch display provides enough pixel density for a crisp display, but you're not going to get the saturation found on IPS or VA panels here.
The Alienware AW2518HF also includes six pre-set modes, of which three are fully customizable. This means that you won't have to adjust any settings on the computer itself if you want to quickly alter your display appearance and turn up the brightness. The monitor offers an easy on-screen design to flick through modes in order to optimize gaming visuals. Also included is a built-in FPS counter that is shown in the corner of your screen, you'll be able to activate it in order to see if your frames are dropping.
Alienware is a subsidiary of Dell and, like many Dell monitors nowadays, they have implemented thin borders in the design of the Alienware AW2518HF. This allows for a multi-display set-up should you want to stack three monitors together. If you want a racing simulator or perhaps a super immersive RPG visual experience, then you could definitely pick up three of these to meet your requirements. For those of us who just want a single Alienware AW2518HF monitor, there's nothing to worry about, you're still going to enjoy the high performance on a single-screen setup.
With its silver and black chrome finishes, the Alienware AW2518HF is bound to catch your eye. It's fully adjustable so you'll be able to view it at any angle and find the most comfortable positioning. It hits the 25-inch 1080p range perfectly and is a must for those specifically interested in e-sports and first-person shooter games.
7. Sceptre C305B-200UN 30-Inch 200Hz 1080p Gaming Monitor

Specs & Features
| | |
| --- | --- |
| Resolution and refresh rate | 2560 x 1080 @ 200Hz |
| Display size | 30 inches |
| Connection types | Display Port 1.2, 2 x HDMI 1.4, 1 x HDMI 2.0, 3.5mm Headphone Jack |
| Adaptive Sync | AMD Free Sync / G-Sync compatible |
Sceptre might not be a well-known brand for most, but they're trying to manufacture high-performance gaming monitors at affordable prices. When you think of an ultra-wide display you might think you have to sacrifice the refresh rate or video quality. However, the Sceptre C305B-200UN is trying to bridge that gap in value for money.
The Sceptre 30-inch ultrawide gaming monitor is a spectacle to look at. Its curved frameless border makes sure you have full immersion at an incredible 200Hz refresh rate. At the back, you will find built-in speakers and LED lighting that gives the feel of an overall entertainment system. If you're planning to put this on a desk then be prepared to make some space, it's likely going to be a dedicated setup. Those of you looking for more of an office/gaming combo should therefore take caution. However, if you'd like a display that can be used for your gaming consoles and PC, then the C305B-200UN can provide that ultimate gaming experience.
Although the ultrawide monitor has a VA panel and the color quality is more defined and natural, we wouldn't recommend this display for competitive gaming. The screen is simply too wide and if you're playing a first-person shooter, you're going to miss things in your field of view. Additionally, the monitor is 2560×1080 so it is a full HD 1080p display, the downside is that the picture can look somewhat stretched. This may not be a problem for some because they know what they're looking for in an ultrawide monitor, but it's not going to retain the same picture quality and pixel density as a standard 24-inch 1920 x 1080 monitor.
Once you're satisfied with the above, there are a lot of cool features to be found with this gaming monitor. There is a "picture in picture" mode that allows users to multitask and overlay a secondary image on their existing one. For example, you could play a video game and have YouTube in the top right corner of the screen. Additionally, there is also a "picture by picture" which is a split-screen mode that lets you half your display. Similar to "picture in picture" the display can now be cut into two with YouTube playing on one side of the screen and your game on the other. Similar to Dell, Sceptre has also included some custom display settings such as an "RTS mode and an FPS" mode which can enhance gameplay through color changes.
Finally, it should be noted how the refresh rate works. Sceptre has advertised a 200Hz refresh rate but that is only through display mode. You will be able to select up to 165Hz through HMDI, but you will need to buy a Display Port separately in order to unlock the full refresh rate. The monitor also includes adaptive sync technology, so FreeSync and G-Sync will be fully enabled.
8. Sceptre E255B-1658A 25-Inch 165Hz 1080p Gaming Monitor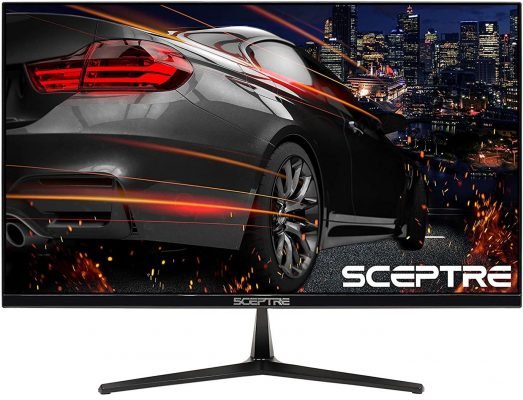 Specs & Features
| | |
| --- | --- |
| Resolution and refresh rate | 1920 x 1080 @ 165Hz |
| Display size | 25 inches |
| Connection types | Display Port 1.2, HDMI 1.4, HDMI 2.0 |
| Adaptive Sync | AMD Free Sync |
If the Sceptre ultrawide 30-inch display caught your interest but was slightly too large to suit your needs, then you might want to take a look at their 25-inch edition. The Sceptre E225B-1658A is a 1920 x 1080 165Hz monitor that packs a respectable refresh rate and sleek panel for a fraction of the cost. It has some of the cool build features found in the 30-inch 200Hz edition such as the built-in speakers and edgeless design but reverts to a standard size for competitive gaming.
Looking at the response time, you'll notice that this monitor has less blurring and ghosting found in larger monitors. The 30-inch Sceptre may output a beautiful VA panel image, but it's going to have some input delay for those high-intensity situations. That's not to say your single-player experience will be affected by any means, we just reason the 25-inch edition will fair better in online games with its compact field of view.
The standard 24-inch 1080p display found in most budget gaming monitors has been upgraded to 165Hz, and as expected a TN panel has been used to ensure a 1ms response time. The monitor also comes with adaptive sync, however, it only supports AMD's FreeSync technology. At its current stage, the monitor has not been given the go-ahead for Nvidia's G-Sync compatibility, but it may be added in the future. For those using Nvidia cards, this shouldn't deter you from the monitor itself, it will still provide a very smooth experience for games, granted you can reach high enough frames.
Sceptre has also included their custom display settings "RTS and FPS" to enhance gameplay. The screen sports an "anti-flicker" feature to provide clear visuals and prevent any backlight from flickering while you're gaming. Surprisingly (and a very nice addition) is an included 1.4 Display Cable. We often see manufacturers providing a cheaper HDMI alternative which can, in some cases, limit the display to 120Hz. Sceptre can be applauded here for allowing gamers to get that 165Hz display right out of the box.
In conclusion, the Sceptre 25-inch 165Hz gaming monitor provides a good gaming experience. The 1080p display is crisp and colors/saturation is easily adjustable to find your preference. The TN panel lacks the vibrance and depth found in their 30-inch VA edition, but it's a good trade-off for the performance and price. One thing to note here is the monitor stand can be tilted forward and backward, but the height cannot be adjusted. In order to fix this, you could adjust your chair or put something under the monitor to raise the height. Otherwise, the Sceptre E225B-1658A will be an excellent choice for those looking beyond 144Hz on a budget.
9. AOC CQ32G2S 32-Inch 165Hz 1440p Gaming Monitor
Specs & Features
| | |
| --- | --- |
| Resolution and refresh rate | 2560 x 1440 @ 165Hz |
| Display size | 32 inches |
| Connection types | Display Port 1.2, 2 x HDMI 2.0 |
| Adaptive Sync | AMD FreeSync / Nvidia G-Sync compatible |
If you're getting an ultra-wide gaming monitor, you're likely going to focus on immersion and picture quality. In this guide of the best gaming monitors, we have mentioned the Sceptre 30-inch 2560 x 1080 curved gaming monitor and, although it provides a great experience, for a few extra dollars, you can take your gaming to the next level! The AOC CQ32G2S is an upgraded ultra-wide monitor panel with a host of convenient features and superior build quality.
For starters, the CQ32G2S is a 32-inch 2560 x 1440p display, instead of its Sceptre rival. Those extra pixels are going to make a whole lot of difference when it comes to picture clarity and density. Often wide-screen monitors will have stretched-out displays which can look amazing from far away, but when you're up close to the screen, you can see individual pixels.
The CQ32G2S now provides a curved display with a vibrant VA panel and 165Hz refresh rate to match. You could be asking yourself now, doesn't the Sceptre have a 200Hz VA panel at a lower cost? Well, yes it does, but the AOC edition is offering lower latency and a 1440p display. Moreover, you're probably not going to be using an ultra-wide monitor dedicated to competitive gaming, so those 35Hz aren't going to make much of a difference.
Next is the build quality, and AOC has kitted the CQ32G2S with a durable stand that can tilt, pivot, and swivel. The monitor itself is also frameless to give you the most out of the picture, and the black and red theme looks really premium. AOC has included their great 3-year dead pixel warranty, a 3-year advanced replacement, and 1-year accidental damage coverage. The VA panel also has good viewing angles so you'll never miss out, and the 80,000,000:1 SmartContrast ratio will deliver brighter whites and deeper blacks. There's also a 1ms response time compared to the Sceptre's 5ms, although it may not be noticeable to all, it does feel a bit more fluid.
As with most gaming monitors, AOC has included both Free Sync and G-Sync compatibility. The tear-free and low frame rate compensation technologies will work especially well when you're setting your PC at a higher resolution and the GPU comes under stress. Therefore, if you're after a large 1440p VA monitor, with a fast refresh rate and incredible build quality to match, the AOC CQ32G2S might be ready to fulfill all your gaming needs.
10. ViewSonic VX2458-C-MHD 24-Inch 144Hz 1080p Gaming Monitor
Specs & Features
| | |
| --- | --- |
| Resolution and refresh rate | 1920 x 1080 @ 144Hz |
| Display size | 24 inches |
| Connection types | Display Port 1.2, HDMI 1.4, DVI-D, Earphone Jack |
| Adaptive Sync | AMD FreeSync / Nvidia G-Sync compatible |
What if you're on a tight budget, but want a fast refresh rate and a VA panel to go along with it? Previously, we spoke about fast TN panels, but the compromise is a picture that can seem somewhat washed or dull in comparison to IPS and VA displays. Well, the good news is ViewSonic has tried to make a gaming monitor that includes all the essentials you'll need. The VX2458 has a little bit of everything and would make a nice addition for those looking at an entry-level gaming monitor for PC, PS4, or Xbox.
ViewSonic tried something different with the VX2458. It's a curved 1080p 144Hz VA gaming monitor that's going to give you every bit of what you paid for. The curved VA panel has AMD FreeSync technology, which also works with G-Sync. The display is 23.6 inches and has a slight curve that is just enough to keep you immersed but still be easy on the eyes.
What's so different about the VX2458 is the price-to-feature ratio. It really tries to include every feature you'll find on higher-end gaming monitors, and still manages to pull it off with reasonable quality. Besides the adaptive sync technology and refresh rate, the VX2458 also includes: color pre-sets; integrated speakers; flicker-free technology; and a blue light filter.
The color presets are pretty basic and include modes such as "movie, web, game, and mono." In essence, they're not specifically designed for gaming as they give out a random gamma curve and color temperature. The contrast and brightness will increase, and they may allow you to see better in-game, but you're probably better off making your own color pre-set. It's just a quick little shortcut to enhance a picture mode for convenience.
The double 3W speakers are located at the back and although they provide decent stereo sound, they're not going to blow you away with any deep bass or warm mids. You will still need a gaming headset in order to hear in-game audio correctly to determine the direction. However, the speakers will do fine when watching videos or movies from afar. There's also a 1ms response time so the question of ghosting may be raised when there's fast motion on the screen. ViewSonic has tried to introduce its flicker-free technology to combat this, and it's great to see that it does the job nicely.
Overall, the ViewSonic VX2458 provides rich colors and a fast refresh rate. If you're going after raw performance and your money is limited, then you'll find a lot of value here. Our only drawback was the rather dated look of the monitor and its inability to adjust its height. However, the monitor still offers killer value at a very affordable price point. It is also available in a 27-inch and 32-inch 1080 144Hz edition if you've got a few extra dollars to spare. So, if you're looking to spend just a little over 100 dollars, the ViewSonic VX2458-C-MHD should be on your gaming monitor shortlist.
---
Common Resolutions and Refresh Rates
When looking around for most gaming monitors you will come across 1080p at 1920 x 1080, 1440p at 2560 x 1440, and finally 4K at 3840 x 2160. These monitors will be available at various refresh rates, but the most common will be 60hz and 144hz. As previously stated, the higher the refresh rate, the smoother the picture will appear. However, now it must also be taken into account the higher the resolution, the better the image quality will be. We therefore arrive at our trade-off point which separates price from performance. Should you go with a 1080p monitor with a 144hz refresh rate, or should you sacrifice the smoothness for a crisp 4K display at 60hz? Well, the answer to this question will come from the games you intend to play.
Generally, if you enjoy RPGs or slow-paced games, you'll likely be fine with a 60hz monitor. This also means you can splash out and get yourself a higher resolution and wider display. However, you should tread carefully with 60Hz displays. Although they're very affordable, there's a massive leap when you head towards 144Hz and beyond. Mouse scrolling and applications in windows seem cleaner, games feel like butter, and if you're into competitive games you'll have a distinct advantage.
This is why most gamers tend to go with smaller resolutions such as a 24-inch 1080p monitor at 144hz. These kinds of monitors will allow you to play your RPG titles, but also reap the benefits of a high-refresh-rate monitor. They may not be as detailed and beautiful as a 4K monitor, but if you're not used to 4k in the first place, you're not going to notice anything different. For purposes of this article, we have therefore tried to mainly include high refresh rate monitors at various resolutions. However, if you want the best of both worlds such as a 1440p monitor at 144hz, prepare to shell out some money.

Monitor Size
Most gaming monitors will measure around 24 to 27 inches. However, ultrawide monitors can go up to 34 inches in display. As a starting point, it is important to remember that a 24-inch monitor looks good at 1080p, and a 27-inch monitor is recommended for 1440p or 4k resolutions. The reasoning behind this is something called pixel density. If you have a 1080p monitor that is spread over a 27-inch display, the result will be an image that lacks sharpness and may seem pixelated in some games. Therefore, if you are looking for a bigger display you should also make sure the resolution is on par in order to retain a clean-looking image. With that being said, a 24-inch monitor can look even better at higher resolutions such as 1440p.
So, why do manufacturers generally offer 24-inch and 27-inch monitors at 1080p? Well, the answer is the price. If you want a better resolution, you will have to pay more money. For most gamers, however, a 24-inch 1080p monitor will be more than enough for an enjoyable gaming experience. However, for those building higher-end machines with the latest GPUs, you will want to take advantage of the PC performance and upgrade to a bigger size with better pixel density. Overall, if you're into e-sports, a 24-inch will be fine, whereas if you want to best picture quality possible then 27 inches and beyond may tickle your fancy.
A quick note should be mentioned about curved monitors in the 30-inch and beyond range. Many users report that these kinds of monitors offer a more immersive gaming experience. It's generally a personal preference, but these extra-wide monitors will likely be for those wanting story-driven or racing games. It will be a bit difficult to play an online shooter game where you have to turn your entire neck every time to find a flanking enemy.
Response Time and Input Lag
Most gaming monitors will feature response times of 1ms to 5ms. On the box, they may even try to market it as an ultrafast advantage for competitive gaming. However, in most cases, it is merely a marketing term. You most likely won't notice the difference between a 1ms monitor and a 5ms one. Sure, a 1ms response time is not going to hurt, but if you can save a few dollars then try to do so.
On that note, some manufactures state that their gaming monitors are '1ms', however on default they are set to a much higher value. When one enables it to the fastest setting you may see ghosting on the screen. Therefore, always make sure to check reviews and read if the monitor actually performs as stated. Whatever the case may be, response time should not be a deciding factor with today's monitors.
What is important however is the input lag, or the time it takes the monitor to display an image after receiving the signal to do so. Again, most modern gaming monitors will have good input lag times. However, we shall discuss input lag in greater detail further below. Monitor settings such as adaptive sync and v-sync can play an important role in snowballing the input lag effect.
Adaptive Sync
Adaptive sync is a technology found in more recent gaming monitors. It allows the graphics card to control the refresh rate of the monitor, which means the refresh rate will be equal to the fps coming from the GPU. Why is this technology important you may ask? Well, the point is to prevent screen tearing which occurs when the monitor refresh rate and in-game fps are out of sync. It is commonly thought that screen tearing will only be prevalent when the fps output is less than the refresh rate of the monitor, however, this is a misconception. Screen tearing will occur when the fps is both lower or greater than the monitor's refresh rate, the only difference being that a higher refresh rate makes it more difficult to spot.
Now that you know the reasoning behind adaptive sync you should also know there are two types: Nvidia's G-SYNC and AMD's FreeSync. For years G-SYNC could only be used with Nvidia GPU's and FreeSync could only be used with AMD GPU's. This did not mean that an Nvidia GPU could not work on a FreeSync monitor, it just meant that the adaptive sync technology could not be used. However, times have changed and Nvidia has now made some FreeSync monitors 'G-SYNC compatible'. Therefore, the adaptive sync technology can be used, and more FreeSync monitors are being updated to the compatible list every year. It is very important to note here that Nvidia G-Sync monitors are way more expensive than AMD FreeSync monitors, so this new compatibility feature is welcomed for those on a budget.
Should you get an adaptive sync monitor? Yes, as long as it doesn't hurt your budget. If you're interested in playing games with fluctuating frame rates that aren't stable then you will benefit greatly from the technology. This certainly doesn't mean that games become unplayable if you do not enable the technology, but it will help with the screen tearing. Before buying an adaptive sync monitor, be on the lookout for whether it is G-Sync compatible (should you have an Nvidia GPU) or if it has FreeSync (should you side with AMD). FreeSync can be enabled using an HMDI v 1.4, whereas G-Sync will require a display port cable.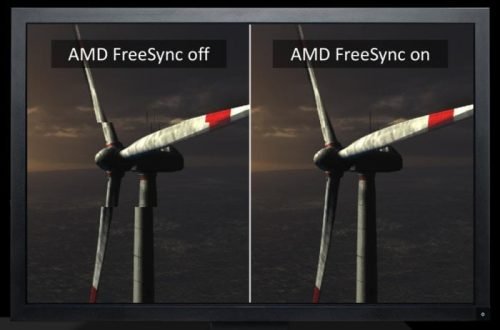 How To Properly Set Up G-Sync and FreeSync
Above we spoke about the benefits of adaptive sync and how it can eliminate screen tearing for an even smoother gaming experience. However, it's important to know how to properly set up these features. In most cases it will not be a plug-in-and-play experience, you will be required to make some changes. For purposes of this guide, we will focus on the Nvidia G-Sync / G-Sync compatible method which can be applied to both Nvidia and AMD monitors, however, the same process will follow with AMD GPUs.
Nvidia control panel settings: The first thing you'll need to do is go into: "Setup G-Sync > Enable G-Sync for full-screen mode." Next, you will need to head over to "Manage 3D settings" and turn on "vertical sync". Remember to restart your PC for these settings to take effect once saved. Additionally, if you are not seeing the G-Sync option in your Nvidia control panel, you're either not using a display port cable, or the monitor is not G-Sync compatible if the correct cable is connected.
In-game settings: Now that you have booted up your favorite game, you will need to make sure under the video settings that it is in "Fullscreen". You will also need to disable all "vertical sync"; "v-sync", or "triple buffering" options in the video settings tab.
FPS limiter: If the game has a built-in FPS limiter available, you should set it to 3 frames below your monitor's maximum refresh rate. Therefore 57 fps for a 60Hz monitor; or 141 fps for a 144Hz monitor. The reason behind this is that you'll want to keep the games fps within the FreeSync range and in order to reduce as much input lag as possible. Finally, if the game does not have an FPS limiter built-in, you can also find one in the Nvidia control panel under "manage 3D settings".
A final note here is that G-Sync and FreeSync are optional. In some cases, you will want as much fps as possible with no input lag. Games such as Counter-Strike: Global Offensive may have ridiculous in-game frames of up to 500, but this will give you an advantage in a competitive scenario. Although some gamers will like the added smoothness, they will not be ready to sacrifice the input lag added by adaptive FreeSync. Our suggestion is therefore to make separate adaptive profiles for different games. If you're playing competitive games where reaction time is everything, leave it off, whereas if you're playing an RPG and want consistent frames and smooth gameplay, then turn it on.
Monitor Panels
There are various monitor panels available on the market but the most popular are: In-plane-switching (IPS), Twisted Nematic (TN), and Vertical Alignment (VA). Each of these monitor types has different benefits and downsides, which include their response times, picture quality, viewing angles, and price.
In-plane-switching (IPS) panels offer excellent image quality and viewing angles. They often have vibrant contrasts, brilliant colors, high refresh rates, and short reaction times. Their only downside may come at their price, as they are often more expensive than other monitor panels.
Twisted Nematic panels offer fast reaction times and even better refresh rates than IPS panels. They are excellent energy savers, but due to their contrast and brightness, IPS and VA panels offer better image quality. Most TN panels will be advertised at a 1ms response time and marketed for competitive gaming.
Vertical alignment panels are similar to IPS in that they have good contrast ratios, viewing angles, and picture quality. The sacrifice is a slower reaction time and refresh rate. These are commonly more suited for those looking for a monitor not dedicated for gaming, but more on the side of crisp visuals.
If you're looking for a monitor primarily for gaming with the highest refresh rate at a reasonable price, we would suggest a TN panel. Their picture quality might not be as vibrant as something found in IPS or VA, but they will provide a very smooth gaming experience. However, if you plan to do some video or picture editing, as well as gaming, then an IPS panel may be best. You may need to pay a bit more with IPS, but if you're a content creator this may be worth it. Overall, those on a gaming budget should side with TN for the best value for money, whereas those with a little bit more to spend should look at IPS.
Features and Connections
Excellent monitor specs and promised performance should not be the only thing you look for when deciding which display will suit you best. There are also the finer details found on the monitor itself such as the build itself, additional features, and connection types. Starting with the build, an ergonomic design is important for gamers looking at spending long sessions in front of their monitor. Be on the lookout for monitors that can tilt, swivel, and pivot to your needs. Some monitors are also matte whereas others are gloss and prone to smudges. You should also decide if you want a monitor that looks more professional for an office environment or a fancier design dedicated to gaming.
Other features gamers should be on the lookout for are built-in speakers, headphone and USB ports, non-reflective finishes for bright rooms, and flicker-free displays. Will your monitor only be for desk use or would you like to use it as an entertainment system while you relax in bed? Most headphone manufacturers will add these additional features at the cost of reducing the actual monitor specs to save on costs. You, therefore, have to weigh your options if you'd prefer a high-performance monitor or an all-around display that is more average but caters to more things.
Finally, connections such as Display Ports and HDMI's are important. Most gamers will want to connect their PCs and consoles to their monitors so you should make sure the monitor you're buying has enough ports. Consoles will most likely make use of the HDMI connection, so you should make sure your graphics card can be connected via Display Port. Also, be very mindful of the cables included with your monitor. Although it may advertise a "144Hz" refresh rate, this may only be activated through Display Port in some cases. Some monitor manufacturers only include an HDMI cable so be ready to include a Display Port with your order.
Future-Proofing and Price
When building a PC, most of us want to 'future-proof' and make sure that our money is well spent. Nobody wants to build a PC and have to replace multiple parts the following year in order to keep up with the next generation of games. Unfortunately, most GPU companies are releasing cards every year which seem to blow away the previous year's competition. Monitors are a little different in this aspect and a good quality one can last you for many years to come.
Remember, your monitor may be capable of 1440p at 144Hz, but your current GPU can only push out 1080p at 144Hz on "high settings". This means that for the time, your current monitor is ahead of your PC build, and you still have room to upgrade before you change out your monitor. What does this mean for you? Well, try to spend as much as you can on your gaming monitor. You're going to be looking at it every day, and it's going to show you what those expensive PC parts are capable of.
Furthermore, when buying a monitor try to keep in mind what you would like to see for the next several years. Games are getting harder to run and 1080p at 144Hz might be exactly what you're after for years to come. However, if you want an even better monitor, you'll need to be prepared to spend more on your PC to make sure you're fully utilizing your monitor.
In summary, always get what's available in your budget, but look for the best value for money to match your current specs and a possible upgrade in the future within reason.