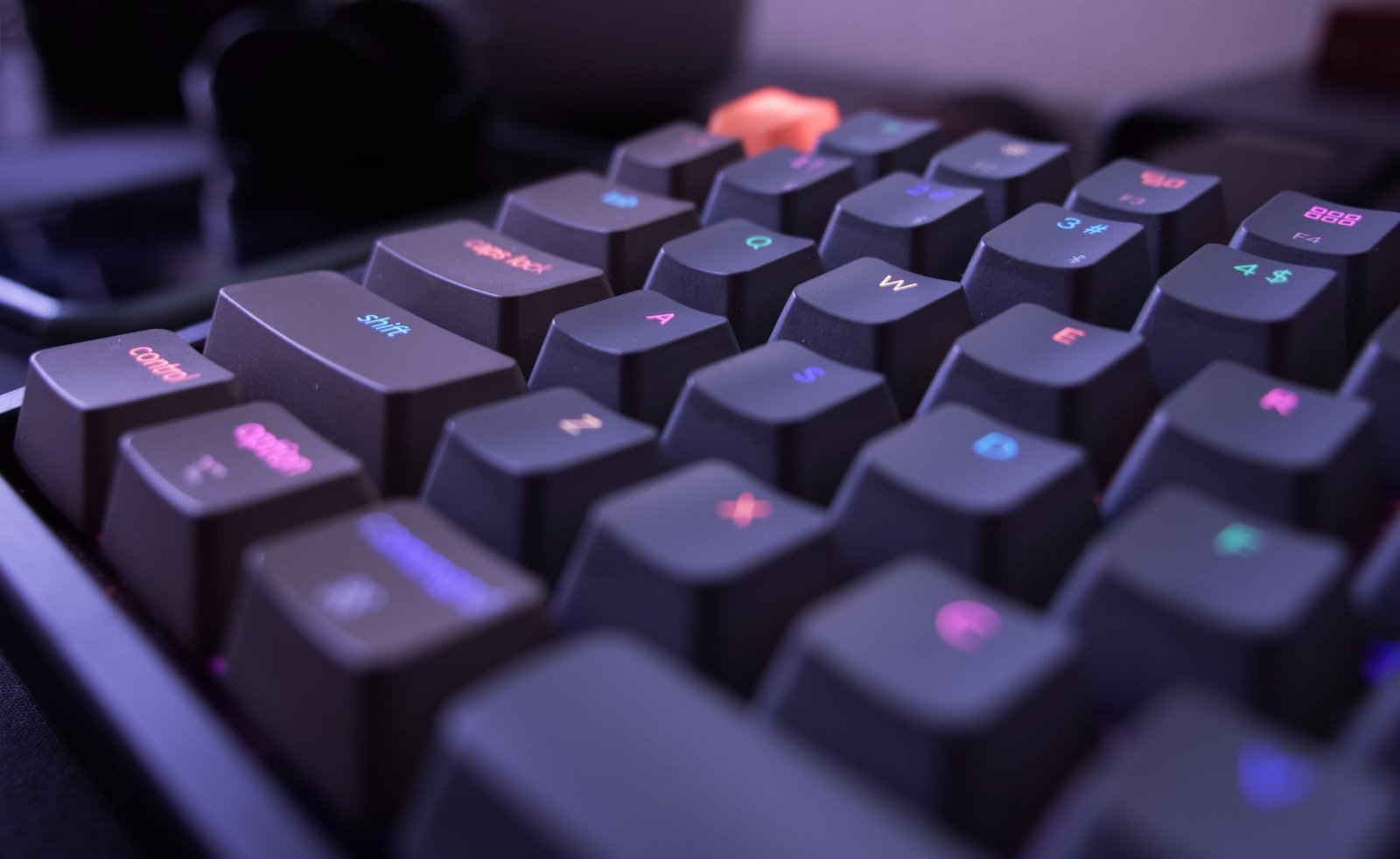 Best Mechanical Keyboard for Gaming
If you're a PC gamer, chances are you've probably heard of mechanical keyboards. Some of your friends might have told you that these keyboards make you play better, and overall have a much better feel than traditional keyboards. But how do these differ from normal "membrane" keyboards, and why are they beneficial for gaming?
In this article, we've compiled a comprehensive guide on everything you should know before buying a mechanical keyboard, including all of the different types of mechanical keyboard switches and which is best for your specific needs. We've also reviewed a list of 10 of the best mechanical keyboards for gaming to fit every price range. At the end of this article, you'll find a step-by-step guide on how to clean your mechanical keyboard too.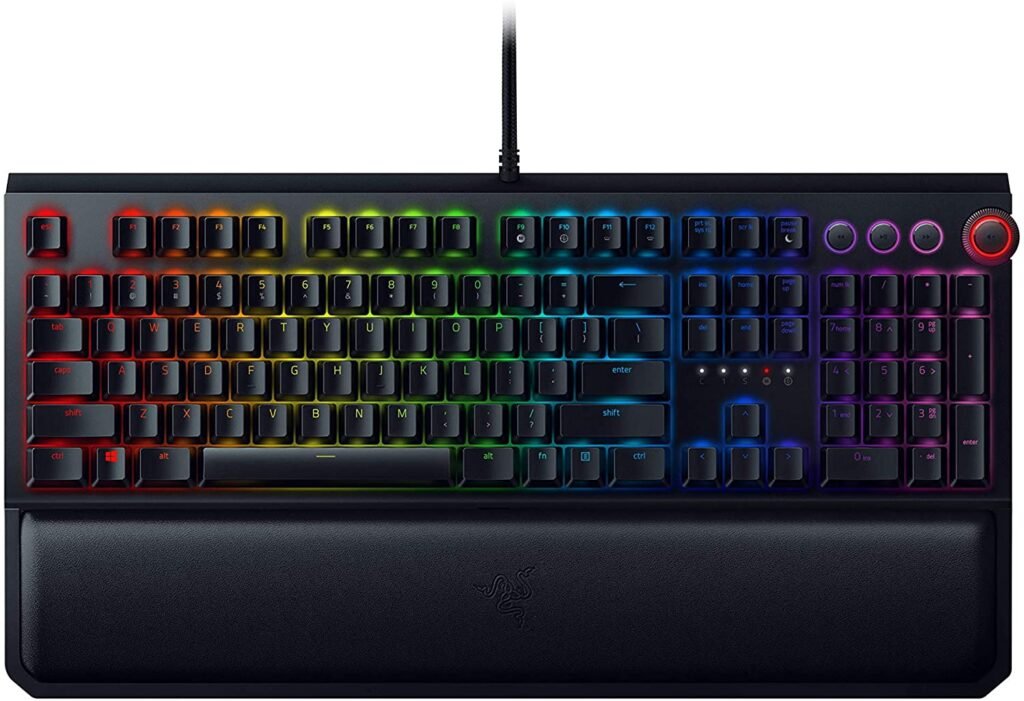 Our Top Pick!
The winner of our pick for the best mechanical keyboard for gaming (best overall) goes to the Razer BlackWidow Elite Mechanical Gaming Keyboard. The Razer BlackWidow Elite is an excellent choice for overall comfortability, features, and quality!
---
Mechanical Vs Membrane Keyboard
A normal keyboard is referred to as a 'membrane keyboard', which features a squishy rubber dome switch under each key. The basic concept is that when you press down, a pad on the inside of the dome will hit the circuit, and a keypress will be triggered. The squishy rubber dome switch provides resistance and returns the key to its original position when you lift up your finger.
A mechanical keyboard differs from a membrane keyboard in all aspects of feel, consistency, quality, and individuality. For starters, a mechanical keyboard uses a physical switch to trigger the keypress, and a spring to provide resistance to each keystroke. The result is a feeling that is more consistent and precise. To put this in perspective, think of a membrane and mechanical keyboard as a television remote. The membrane keyboard would have keys that are joined together and are somewhat less responsive, while the mechanical keyboard will have individual keys that would be easier to use and actually feel responsive with each touch. There would be no mistake of, 'did I actually click it?'
"Mechanical keyboards allow for faster typing"
Mechanical keyboards also have smaller travel distances of around 0.5 mm to 2.5 mm, whereas membrane keyboards can range anywhere upwards of 4 mm. Therefore, mechanical keyboards allow for faster typing and in most cases, require much less effort to use. But more on this later when we compare 'actuation force and distance.
Mechanical keyboards offer a wide range of benefits being more durable over time, as they tend to last longer than standard rubber membrane keyboards. Membrane keyboards often have a lifespan of around 5-10 million keystrokes per key, while mechanical keyboards can reach up to 100 million clicks.
The difference in its overall feel is also not only in the keystroke when pushed down but also in having much less wiggle thanks to their mounted design. The outcome is a keystroke that is built more solid (taken from the name mechanical, more metal, and less plastic) and ensures maximum accuracy when gaming.
---
Our Selection Of The 10 Best Mechanical Keyboards For Gaming
By the end of this article, you'll know all there is to know about mechanical keyboards and their features. First, let's take a look at the 10 best mechanical keyboards for gaming.
1. Razer BlackWidow Elite Mechanical Gaming Keyboard
Specs & Features
| | |
| --- | --- |
| Switch type | Razer Green, Yellow, and Orange |
| Size | Full and Tenkeyless |
| Dimensions | 7.5 x 1.7 x 6.5 inches |
| Weight | 2.67 lbs |
The Razer BlackWidow Elite is quite a beefy mechanical keyboard measuring 17.5 inches in length, 6.5 inches in depth, and 1.7 inches in height. For gamers looking for a well-built keyboard with great ergonomics, they're in for a treat with the detachable wrist rest and two incline settings. Before we get into what the keyboard has to offer, gamers who want a tenkeyless option and all the comforts that go with the BlackWidow Elite can also check out the Razer BlackWidow Tournament Edition Chroma V2.
The Razer BlackWidow Elite mechanical keyboard has outstanding build quality. Razer is a brand known for its long-lasting equipment and I'm sure most of us have heard of their Kraken headsets going beyond 5 years. The BlackWidow Elite is no different with a metal front and a durable plastic covering on the back and sides. The keyboard feels sturdy and has minimal flex to it. The BlackWidow Elite also has full RGB backlighting that can be controlled via the Razer Synapse 3 software. Additionally, you can also set up multiple profiles to save your favorite settings, and set macros to any key. A quick note here is that the BlackWidow Elite comes with the full RGB experience. You can assign colors to separate keys and choose from a wide range of patterns. The Blackwidow Elite is also available in a quartz pink color as opposed to its traditional classic black.
Connectivity is where the BlackWidow Elite really separates itself from most mechanical keyboards. The Razer BlackWidow Elite is wired-only, but there is a wireless option found in the Razer BlackWidow V3 Pro. When looking at the BlackWidow Elite side, you will also notice a USB 2.0 and audio pass-through connectors for easier cable routing. Gamers will be able to connect their 3.5 mm headsets and possibly other gaming equipment that cant reach their computers. If you have an RGB mousepad, simply slide it into the USB 2.0 for a much neater cabling option.
We spoke about Razer Switches earlier in this article and the BlackWidow Elite comes in: green, yellow, and orange switches. To briefly recap the green switches are tactile and clicky, they are comparable to blue switches from other manufacturers. The yellow switches are linear and silent and are variants of the commonly used red switches. Finally, the orange switches are tactile and silent and are similarly called brown switches which are a combination of the blue switch resistance, and the red switch silence. Razer promises that each key is durable and can go up to 80 million keystrokes before wearing out. Please note that the Razer BlackWidow Elite does not come with Razer Optical switches.
The Razer BlackWidow Elite comes with a wide range of features and is tied together with a durable 2-year warranty. The keyboard also has really cool media keys at the top of the Numpad that can be used to skip/rewind music or change volume. It is a larger-than-average mechanical keyboard, so we would recommend it to gamers who have a decent amount of desk space. The Razer Switches variants are precise and fast, so you'll gain the competitive edge of a real mechanical keyboard. If you're after a good mechanical keyboard around the 100-dollar region, then the Razer BlackWidow Elite is a great option for comfortability, features, and quality.
2. SteelSeries Apex Pro Mechanical Gaming Keyboard
Specs & Features
| | |
| --- | --- |
| Switch type | OmniPoint |
| Size | Full and Tenkeyless |
| Dimensions | 17.2 x 1.6 x 5.5 inches |
| Weight | 2.14 lbs |
The SteelSeries Apex Pro is a premium mechanical keyboard that is something really special. It has a unique ability that allows the user to change the amount of travel distance in a keystroke, and also adjust the actuation force to a higher or lower value. Whether you want to lower the travel distance for the fastest reactions in gaming or increase the actuation force to reduce accidental inputs while typing, the SteelSeries Apex Pro has everything you're looking for.
Every premium-priced mechanical keyboard should have excellent build quality and features to match, and let's be clear, the Apex Pro does not disappoint. The SteelSeries Apex Pro has been built with an aluminum body to keep the weight down, while still providing a strong foundation. The frame is rather large at (L x W x H) 17.2 x 1.6 x 5.5 inches, and also includes a magnetic wrist rest similar to the Razer BlackWidow Elite. SteelSeries has also included a tenkeyless edition of the Apex Pro, so if you don't want the Numpad you can check out the Apex Pro TKL if you want to save on your desk space.
In terms of ergonomics and comfort, the Apex Pro only has one incline setting, it's not a deal-breaker as the high-quality detachable wrist rest keeps your hands relaxed during long sessions of gameplay. Taking a look at appearance and aesthetics, the Apex Pro comes with a wide variety of features. Again, similar to the Razer Blackwidow Elite, the SteelSeries Apex Pro also comes with media keys. You'll be able to adjust the volume set in-game, or skip/forward/pause tracks. SteelSeries one-up Razer though by including a very cool OLED screen on the keyboard that is fully customizable. You can put the volume on the OLED screen, or if you're really creative, you can put up your favorite gif.
Speaking about appearance, the classic black frame really makes the RGB stand out on this mechanical keyboard design. Lighting can be adjusted directly on the keyboard from different patterns and solid colors to increasing and decreasing intensity on the clickable metal roller. The SteelSeries Apex Pro is more of a personalized 'home' keyboard so care should be taken if you plan to travel. The cable is not detachable so if you do not package it correctly, you might damage the rubber coating.
The SteelSeries Apex Pro offers a range of features and a unique ability to change actuation force and travel distance. In terms of sound, the keystrokes are generally quiet because there is no tactile bump when clicking. The OmniPoint switch technology seeks to push the mechanical keyboard industry even further, with a faster response time and better durability, the SteelSeries Apex Pro is a great choice for a premium gaming PC build.
3. Corsair K95 Platinum Mechanical Gaming Keyboard

Specs & Features
| | |
| --- | --- |
| Switch type | MX Cherry Brown and Speed |
| Size | Full |
| Dimensions | 18.3 x 6.6 x 1.3 inches |
| Weight | 2.6 lbs |
This best list wouldn't seem right without actually including an original MX Cherry switch mechanical keyboard, so we have sought through the best and decided on the Corsair K95. There have been many brands trying to replicate the quality of MX Cherry switches, and to their credit, it does make other available mechanical keyboards slightly cheaper, but if money isn't an issue, get ready for what the K95 has to offer.
Industry giant Corsair has made something really special here, with a beautiful anodized brushed aluminum frame, that is both rugged and sleek at the same time, the Corsair K95 is a head-turner. Available in black and gunmetal finishes, the K95 is built to last a lifetime, and there's no question that this might be the most solid and durable mechanical keyboard on our list. Everything, and we mean, everything has been exaggerated and catered toward gaming on this keyboard.
The Corsair K95 has 8MB of profile storage so you'll be able to create up to three independent profiles. Are you a fan of RGB? Well, the K95 goes above and beyond with fully customizable color patterns, modes, and dramatic animations. There's even a 19-zone edge light bar at the top of the keyboard for additional colors. The K95 makes use of Corsair's iCUE software that can also be used to remap keys, create macros, and also control the rest of your peripherals (should they be iCUE compatible).
The Corsair K95 mechanical keyboard also comes bundled with a host of additional buttons that aren't often seen on keyboards. To the left of the keyboard, you'll find 6 dedicated macro keys that can be tailored to your liking and give you an in-game advantage. There are also multimedia keys on the top of the mousepad, with a volume scroller. Speaking of keys, the K95 comes in an MX Cherry Brown or Speed option. MX Cherry brown has fast actuation and light feedback, while the Speed variant is linear and ultrafast with an actuation point of just 1.2mm. We have stated over and over that MX Cherry is simply the best when it comes to mechanical switches, and we can confirm, aside from the extra features, in terms of performance, you're going to get the best whatever switch variant you go for.
The K95 is not just performance, it's also very comfortable, even though it's quite a large keyboard. How large exactly? Well, it measures 18.3 x 6.6 x 1.3 inches in dimension and weighs approximately 2.6 lbs. The K95 also has a detachable wrist rest that has been padded, but not to the plush extent of the Razer BlackWidow Elite. The board can also be raised into a slight incline with its sideways feet design. The sideways feet design is something different as you'll no longer have to worry about accidentally closing them when applying too much pressure pushing forward. Even cooler is when flipping the board over you'll find a pass-through port for smart cable management, so you won't have to be concerned about cable clutter.
The Corsair K95 Platinum is a pricey mechanical keyboard but comes with the quality and features you'd expect from Corsair. Yes, there are budget keyboards available that give you good value for money, but the K95 also gives you what you pay for. If you're building a gaming PC and want something that's going to last for years instead of a transitional period, then the K95 isn't going to disappoint. It is on the larger side, but we would imagine if you can afford the K95, you can afford a slightly bigger desk. The MX Cherry switches just elevate this keyboard into another tier of premium performance.
---
4. HyperX Alloy Origins Mechanical Gaming Keyboard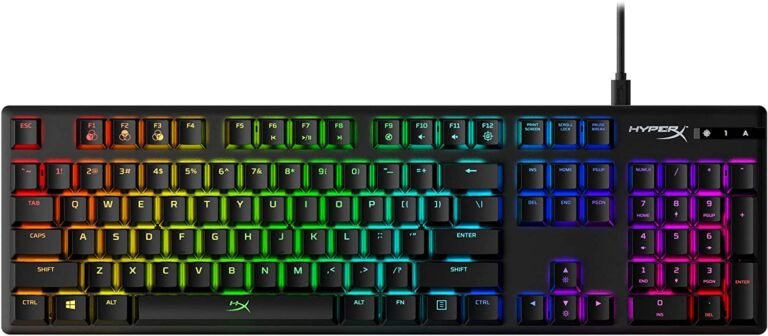 Specs & Features
Switch type: HyperX Aqua, Blue and Red
Size: Full and Tenkeyless
Dimensions: 17.4 x 1.4 x 5.1 inches
Weight: 2.87 lbs
HyperX is another popular gaming brand linked with high-end headsets and mice. It comes as no surprise that they have now entered the mechanical keyboard industry, and one of their best products is the HyperX Alloy Origins mechanical gaming keyboard. The Alloy Origins is just under a hundred dollars for both the tenkeyless and full-sized design, and with various options for switches, the Alloy Origins has a lot to offer in terms of customization.
Like so many brands, HyperX has made alternatives to Cherry MX switches, but the basic design and functions remain somewhat the same. The HyperX Alloy Origins is available in aqua, blue, and red. All of the HyperX switches have a lifespan of up to 80 million clicks, so they're pretty close to MX Cherry and even better than Logitech switches some would say.
The HyperX aqua switches are tactile, have an actuation force of 45g, and a travel distance of 1.8mm. They're comparable to the Cherry MX brown switches, so you can expect a dampened noise with a little feedback when clicked. The second option is the HyperX Blue switches which are tactile and clicky. The blue switches have an actuation force of 50g, and a travel distance of 1.8mm. You'll need a bit more pressure to push them down, but they're a good option for typing enthusiasts. Finally, we have the HyperX red switches, which also have an actuation force of 45g, and a travel distance of 1.8mm. The red switches are great for keeping the noise down and are smooth without any tactile feedback.
Earlier we spoke about customization, and the HyperX Alloy Origins has so much to offer with its great design features. For starters, the keyboard has amazing RGB lighting with dynamic effects. If you're looking for those colorful mechanical keyboards that have a cool wave effect then look no further, the Alloy Origins is ready to brighten up your whole setup. Similar to the Logitech G Pro Mechanical Keyboard, the HyperX Alloy can also be adjusted to three angles with its rubberized feet. The keyboard also has an onboard memory that can store up to three profiles, therefore, gaming, working, and entertainment color themes can all be put into place. The HyperX Alloy Origins also offers great durability with its full aircraft-grade aluminum body. The USB-C cable is also detachable so you'll be able to comfortably travel with the keyboard without worrying about breakage.
Now if you have gotten to this point and you're stuck between the HyperX Alloy Origins and Logitech G Pro Mechanical keyboard, we would advise going with whichever gaming genre you're going to be playing most. If you're into Esports and want the fastest keyboard then the G Pro is for you. However, if you're going to be playing multiple games, and possibly doing some work on the side then you should really consider the HyperX Alloy Origins. The different switch types add the possibility of a quieter keyboard, and the Numpad might come in handy with RPG titles and general tasks. Whatever you decide they're both solid choices.
5. Logitech G Pro Mechanical Gaming Keyboard
Specs & Features
Switch type: GX Blue Clicky
Size: Tenkeyless
Dimensions: 14.96 x 1.97 x 6.3 inches
Weight: 2.82 lbs
If you're into Esports, there's a good chance you've heard that Logitech is one of the go-to brands for equipment that provides quality and performance. Their 'G Pro' series is custom-built for professional Esport athletes and aims to take your gaming experience to the next level. The Logitech G Pro mechanical gaming keyboard is therefore designed with speed, precision, and tournament-level performance in mind. With a tenkeyless compact design, the G Pro keyboard is a perfect option for those into FPS games.
The Logitech G Pro keyboard has GX Blue Click switches. If you went over our switch guide in the article you'll remember that the GX Blue switches are very similar to MX Cherry Blues. These switches are tactile and have a clicky sound to them when pressed. They can be quite audible so be sure you have a good microphone that will cancel out background noise if you're gaming with your friends. Logitech promises a 70 million keystroke warranty with GX switches, so you can take comfort that the keyboard will last a long time with proper care.
Taking a look at the keyboard itself it measures 14.96 x 1.97 x 6.3 inches in dimension (LxWxH). It weighs approximately 2.82 lbs and has a nice matte black finish. Since it is a compact tenkeyless design this also means that you will have more room to move your mouse. Players who have exceptionally low mouse sensitivities will enjoy better movement when flicking on enemies. Underneath the keyboard is rubber feet that can be adjusted to your angled preference to provide stability on any surface while gaming.
In terms of mobility, the Logitech G Pro mechanical keyboard also has a detachable micro USB cable that makes travel easy. If you're going to a LAN you can easily fit the keyboard into your bag and not worry that the cable will be damaged along the way. Finally, what would a gaming keyboard be without a bit of RGB? With Logitech G HUB software you'll be able to customize the lighting to your preference, all the way from static colors to patterns.
6. GK61 Mechanical Gaming Keyboard

Specs & Features
Switch type: Gateron Optical Black, Blue, Brown, Red, Yellow, and Silver.
Size: Tenkeyless 61 key 60%
Dimensions: 11.5 x 1.57 x 4.05 inches
Weight: 1.19 lbs
Are you looking for a small mechanical keyboard with optical switches? Does a simple 61 key RGB illuminated keyboard with multiple variations in colors and switch types sound interesting? Well, look no further than the GK61 mechanical keyboard made by HK gaming.
Traditional mechanical keyboard switches last anywhere between 50 to 80 million keystrokes. That sounds pretty good, but what if you could go beyond what is commonly an industry standard without breaking the bank. The GK61 mechanical keyboard is assembled with optical switches that are more durable and proven to last over 100 million keystrokes. Not only that, but they also have faster response times made possible by infrared beams and sensors. The result is a keystroke that is 0.2ms, and a typing input designed for fast-paced gaming.
The GK61 model comes with a wide range of Gateron optical switches. The variations include black, blue, brown, red, yellow, and silver. The blue (clicky), brown (tactical), and red (linear), all have a travel distance of 4mm and an actuation force between 55 to 45 grams. As expected these are alternatives to the MX Cherry traditional series. However, if you'd like to differentiate from the norm, the black, yellow, and silver switches all have a linear variated design. The black switch has a travel distance of 4mm, but a slightly higher actuation force of 60g. The yellow optical switch has a travel distance of only 3.2mm and an actuation force of 35g. Finally, the silver optical switch also has a travel distance of 3.2mm, but an actuation force of 45g.
With all these optical switch types, you're bound to find one to your liking and preference. Maybe you like the linear feel but want a little more resistance? Perhaps you want a shorter travel distance and minimal resistance? Whatever the case may be, the GK61 mechanical keyboard has something for everyone. Carrying on with its various options, the keyboard also comes in a wide assortment of colors. Currently, the G61K is available in black, white, red, lavender, malibu, and prism pink. The actual build quality is also decent and the keyboard does not feel flimsy as some would expect from a lesser-known brand.
Corresponding with the colorful paint options, the GK61 also has multiple RGB backlit combinations. Users can choose between the built-in ripple, waves, windmill, aurora, spectrum, and single color variations. You can also download the HK RGB software where you will be able to assign up to 16.8 million color variations.
Another cool feature of the GK61 is that the switches and keycaps are swappable. What does this mean? Well, if you really enjoy certain optical switches for specific keys, you'll be able to have a combination of both blue and red switches for example. The GK61 includes both a keycap and switch puller, so there is no soldering or gluing required. Again, please note that this feature is exclusive to optical switches only, do not attempt to interchange switches with your normal mechanical keyboard.
In conclusion, the GK61 is an affordable optical switch mechanical keyboard that is great for future mods and desk space. It should probably be used exclusively for gaming because of its 61 key style, so if you're planning to click F12… it's not going to happen. At just 11.5 inches long, the GK61 is a colorful mechanical keyboard ready to glow up any modder's setup.
7. Redragon K552 Mechanical Gaming Keyboard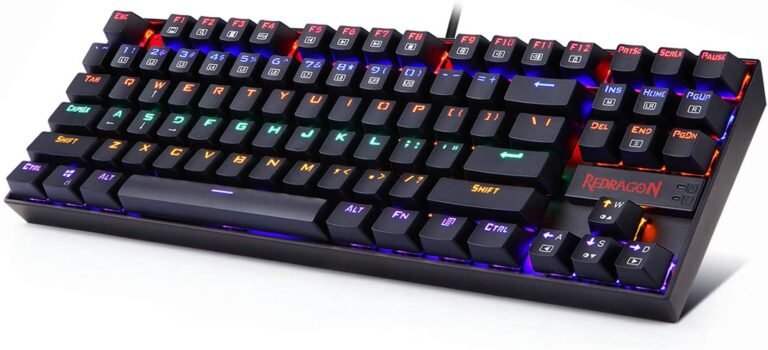 Specs & Features
Switch type: Outemu Red
Size: Tenkeyless
Dimensions: 13.94 x 1.46 x 4.86 inches
Weight: 1.93 lbs
Are you on an extremely tight budget and looking for a mechanical keyboard under $50? Well, enter Redragon, a company known for making gaming equipment super affordable. The Redragon K552 mechanical gaming keyboard comes in a black or white design with 19 different rainbow RGB modes. It's lighter than the Logitech G Pro at 1.93 lbs and also smaller in size measuring (LxWxH) 13.94 x 1.46 x 4.86 inches. So how would a budget entry compare to a more premium mechanical keyboard?
There's definitely some similarity between the K552 and the G Pro mechanical keyboard. If you're a fan of the tenkeyless design, the K552 has you covered with just 87 mechanical keys. Speaking about keys, the K552 also features Outemu Red Key switches, which are alternatives to Cherry MX Red switches. Sure, you're not going to get the exact quality in switches, but you will get that very nice linear feel with no tactile feedback or noise. In terms of durability, Redragon promises 50 million keystrokes per key, it's half the amount that MX Cherry guarantees, but probably more than half the price too. These particular Ontemu switches have an actuation force of 45g and a 2mm travel distance, so they're quite close to the real thing.
Taking a look at the build quality itself the Redragon K552 mechanical keyboard has a base made out of metal alloy and ABS with mechanical switches that can withstand a lot of key mashing. Each key also has an ergonomic curve so long gaming sessions will feel comfortable with each keystroke. Again, the K552 is a tenkeyless mechanical keyboard so there will be no number pad present.
It should be noted here that the Redragon K552 does not come with a removable micro USB cable. This might make it not ideal for travel because the gold-plated USB connector can tear if not stored correctly. The keyboard is also not fully customizable in terms of RGB, as users will not be able to change each individual keys to their preference.
In short, if you can look past the cosmetics and you're going to keep the keyboard at home, the K552 is an excellent choice for your first mechanical keyboard. The board has a sturdy design and features that are found in more high-end alternatives. If you're looking for a mechanical keyboard to last a year or two before you spend big, then definitely give the K552 a try.
8. RK ROYAL KLUDGE RK61 Wireless Mechanical Gaming Keyboard

Specs & Features
Switch type: Kailh red, blue, and brown
Size: Tenkeyless
Dimensions: 11.4 x 1.7 x 3.9 inches
Weight: 1.1 lbs
The RK61 is a wireless mechanical keyboard from RK ROYAL KLUDGE. There's a whole lot on offer here and the pricing is surprisingly very low for the value you get. There's no delay, the battery lasts up to 8 hours on a 3-hour charge, and it all comes together with quality Kailh switches. If you're looking for a compact travel mechanical keyboard, that is compatible with Windows, macOS, and Android, then the RK61 will have you covered on a budget. Before we get into the RK61 wireless edition, RK ROYAL also makes an RK61 wired version for around 10 dollars less, but we would advise having the wireless option if you can spend a bit more.
The RK61 mechanical keyboard is available in both black and white and has 18 RGB built-in color modes. RGB is quite a common feature in mechanical keyboards, but when opting for budget options the software to customize your device can be a hassle. Luckily for the RK61, the brand has spent some time refining its RK ROYAL KLUDGE software. Gamers can assign individual colors to each key, and adjust a pattern to their preference.
In terms of battery life, the RK61 can go up to 10 hours on a single charge, but for gaming sessions, it's actually around 8 hours. If you leave the keyboard on standby, it also turns the RGB backlighting off to save power. A nice little feature is that the keyboard can be connected to up to 3 devices at once, so you can interchange between your PC and smartphone should you want to. Again, the wireless is optional, so if you'd prefer to plug the keyboard in you can do so via the USB-C connector.
As a tenkeyless design, the RK ROYAL KLUDGE RK61 is only 11.4 x 1.7 x 3.9 inches in length, making it one of the smallest mechanical keyboards on this list. It's a perfect option for students who want to fit their keyboards into their backpacks and still be able to enjoy a high-performance mechanical keyboard at home. Unlike most keyboards, the RK61 has an 8 degree raised design instead of rubber feet. This acts as a built-in wrist rest, without actually having a detachable one which you may not have space for.
Finally, the RK61 comes in standard Kailh red, blue, and brown switches. You can choose between tactile, clicky, or linear, but they basically mimic MX Cherry switches. If you're looking for something that's for both office/work and gaming then we would recommend the brown switches for a quieter sound, and less resistance for faster response times in gaming. Whatever variation you choose, the RK61 can compete with high-end wireless mechanical keyboards, and do all this, at half the price.
9. Anne Pro 2 Wireless Mechanical Gaming Keyboard


Specs & Features
Switch type: Gateron Blue, Red, and Brown. Kailh Brown, Red, and White.
Size: 60% Tenkeyless
Dimensions: 11.5 x 1.7 x 4 inches
Weight: 1.41 lbs
The Anne Pro 2 is another wireless mechanical keyboard, but more on the high-end spectrum. If you found the RK ROYAL KLUDGE RK61 interesting, then you might also want to consider the Anne Pro 2 if you have a little bit more money to spend. The Anne Pro 2 is a 60% compact mechanical keyboard with excellent build quality and features to match. With excellent performance, the ability to reprogram every key to macros, and various mechanical switch options, everyone will find something to like about the Anne Pro 2.
The Anne Pro 2 has a plastic frame that feels solid and durable. Sure, a metal frame is probably more sturdy, but they probably wanted to keep weight down with this design. After all, it is a compact keyboard and most people will be interested in traveling with it. The Anne Pro 2 measures just 11.5 x 1.7 x 4 inches, so it's relatively the same as the RK6. It also has a weight of 1.41 lbs, therefore it shouldn't weigh you down as you commute during the day. As for the general finish, it is available in matte black or white, with PBT keycaps to ensure a long lifespan.
Comfort-wise the Anne Pro 2 does not have extendable rubber feet pads but instead opts for a 6-degree incline angle build. The design is focused on compact size, so we would suggest adding a large mouse pad underneath should you want to give your hands a rest while typing. Since this is a 60% keyboard you should also be aware that in order to save space the arrow keys have been removed. Users will have to use the FN key in conjunction with their W, A, S, and D keys in order to use arrows.
In terms of wireless versatility, the Anne Pro 2 can be connected via Bluetooth or USB-C. There is no USB dongle needed so you'll be able to connect directly with up to 4 Bluetooth-enabled devices, of which you'll be able to switch between them effortlessly. What's really incredible about the Anne Pro 2 is the charge rate, which is a ridiculous 30 minutes to get the keyboard to 100%. A single charge can last 8 to 9 hours depending on RGB brightness and usage. The keyboard also has a 1000 Hz polling rate and a response time of 7.1 ms while wireless, so you shouldn't experience any sort of delay when compared to a cabled mechanical keyboard.
The Anne Pro 2 is all about customization and is available in Gateron Blue, Brown, and Red variants, and also, Kailh Brown, Red, and White switches. We have discussed these various switches in detail throughout the article, but basically, their different brands and the Anne Pro 2 comes in tactile, linear, or clicky switches. Back to customization, not only does the Anne Pro 2 have amazing RGB that can be customized via Obinskit Console software, but the actual keyboard comes with additional color keycaps that can be put onto your keyboard. There have been very few times that a mechanical keyboard comes with extra keycaps, and most brands leave it up to you to do further modifications, but it's a really nice touch that the Anne Pro 2 comes bundled with all the extras at one cost.
If you're looking for a wireless keyboard with a bunch of customizable features then the Anne Pro 2 is a step ahead of the RK ROYAL KLUDGE RK61. It comes with more user-friendly software, extra keycaps, multiple switch variations, and more features overall. If you have around 20 to 30 dollars more to spend, then we would advise going for the upgrade, if not the RK61 will probably do fine if you're not going to mod your keyboard in the future. With every key being programmable which would lead to advantages in-game, high-quality switches, amazing build quality, the Anne Pro 2 is a great wireless gaming keyboard.
10. HAVIT HV-KB395L Low Profile Mechanical Gaming Keyboard

Specs & Features
Switch type: Kaihl Blue
Size: Full and Tenkeyless
Dimensions: 17.2 x 0.89 x 5 inches
Weight: 1.25 lbs
Some of us have become so accustomed to laptop keys that traditional keyboards, or even mechanical ones, seem too thick when we transition over to our workstations. Personally, since changing over to low profile switches, I have seen improved speeds in my typing and overall had a much more enjoyable experience not having to push down as far as regular switches. The HAVIT HV-KB395L is a low-profile mechanical keyboard that is 7mm thinner than standard keys and comes bundled with all the features of a regular mechanical gaming keyboard. If you're on a laptop for most of the day, maybe the HV-KB395L is a good alternative for keeping consistency in both gaming, and work.
The first thing you'll notice with a low-profile mechanical keyboard is, well, how ridiculously thin they are. The HAVIT HV-KB395L measures just 17.2 x 0.89 x 5 inches in dimension, and weighs 1.25 lbs. Baring in mind that this is a full 104 key mechanical keyboard, this makes the HV-KB395L miles ahead in lightweight/compact design when compared to other full-sized mechanical keyboard competitors.
There is a small catch though and this comes with the available switch types. At the moment of writing this article, HAVIT has only made a Kailh blue switch variant for this particular low profile series. One of the advantages of low-profile keyboards is that they are relatively quieter. Sure, the blue switches are just 3 mm in travel distance and have an actuation force of 45g, but they're still going to have a bit of a 'clicking sound'. This might not be a problem for most, but they're not going to be as silent as red switches. Although HAVIT has not made any new switch variations, they have also released a smaller 87 key version called the HV-KB390L which is the same as this keyboard, minus the Numpad.
HAVIT has advertised this keyboard as driver-free, so you'll be able to plug & play while being able to change the RGB colors and modes with a touch of a button. An important thing to note here is compatibility, as HAVIT recommends using Windows 7, 8, or 10. Some users have reported that while the keyboard works fine on macOS, they have run into problems trying to adjust the lighting once connected.
Overall, if you have an updated version of Windows there shouldn't be any issues. The HAVIT HV-KB395L is a good choice for those who love the feeling of a laptop keyboard, but also want all the advantages of a mechanical one. The blue Khailh switches have a lifetime of up to 50 million keystrokes and the keyboard itself hovers around the 50 to 70 dollar region. If you haven't tried a low-profile mechanical yet, and don't want to spend unnecessary money, then the HAVIT HVKB395L is a great starting point.
Types of Mechanical Keyboard Switches
Above we spoke about mechanical keyboards having the ability to be customizable in the way they feel. Once you've figured out that mechanical keyboards are more responsive and reliable than membrane keyboards, the next step is to figure out what type of mechanical keyboard switch is right for you? There are three types of switches that you'll find in mechanical keyboards: linear, tactile, and clicky switches. They all come with their advantages and disadvantages, but your choice may be influenced by your environment, headset, and game type.

Tactile Switches
Tactile switches (often referred to as brown switches) provide tactile feedback when pushing the key down. What this means is that you'll notice a small bump in the keystroke that lets you know that the keypress was registered.
Clicky Tactile Switches
Clicky tactile switches (often referred to as blue switches) are true to their name in that they provide a loud clicking sound when typing. They're similar to tactile switches, where you'll feel a slight bump that registers the keystroke but also have a much louder output. If you're planning to game around people in your house, beware, these can be noisy. However, if you're playing alone, the feel and sound can be extremely satisfying.
Linear Switches
Linear switches (often referred to as red switches) feel the same from the initial push until reaching the bottom of the keyboard. These switches are often quiet and have little to no tactile feedback when a keypress is registered.
Some people propose that linear switches are better for gaming because there's no resistance and minimal sound. You'll be able to push down on your keys with ease, and if you're playing an intensive game, then quiet key bashing is going to keep those around you happy.
On the opposite side of the spectrum, others reason that tactile switches provide less chance of accidental keystrokes, and are overall better for typing. If you live alone and sound isn't an issue then clicky tactile switches that provide an additional click sound when hitting the 'bump' of the keystroke can make you even more accurate and fast when typing.
How would the clicky tactile switches be faster than linear switches?
Well, although you have some form of resistance now, the little click sound will tell you immediately when a keystroke has been registered. The result is that you no longer have to push all the way down.
Again, this all comes down to personal preference and what you're going to be doing the most. Consider what would theoretically feel best, and watch a few YouTube videos to decide if you can deal with the sound. With that being said, there are more switch colors than "red, blue, and brown." These are the most common switch types, but various gaming brands have now adopted their own color schemes or added variations to the switch types. Below we will try to give you a general idea of what is available on the market from top mechanical keyboard switch manufacturers.
Actuation Force and Distance
Before getting into the various mechanical keyboard manufacturers, it is important to note actuation force and distance. In order for a keypress to be registered, a certain amount of force and distance must be applied to the switch. You'll notice that brands often mix and match these values to create mechanical keyboards that are designed for specific purposes. Continue below to see the top mechanical keyboard switch manufacturers.
Cherry MX Switches
A German company named Cherry laid the foundation of mechanical keyboard switches in the 1980s with their famous 'Cherry MX Switch'. Since then, they have released a wide variety of switch colors which also have different characteristics. Other mechanical keyboard manufactures have also made their own variations of mechanical switches, but all have taken some inspiration from the German juggernaut, Cherry. Cherry also now guarantees at least 100 million keystrokes without any loss in quality. Their long lifespan is another reason why many gamers side with the value for money in its longevity.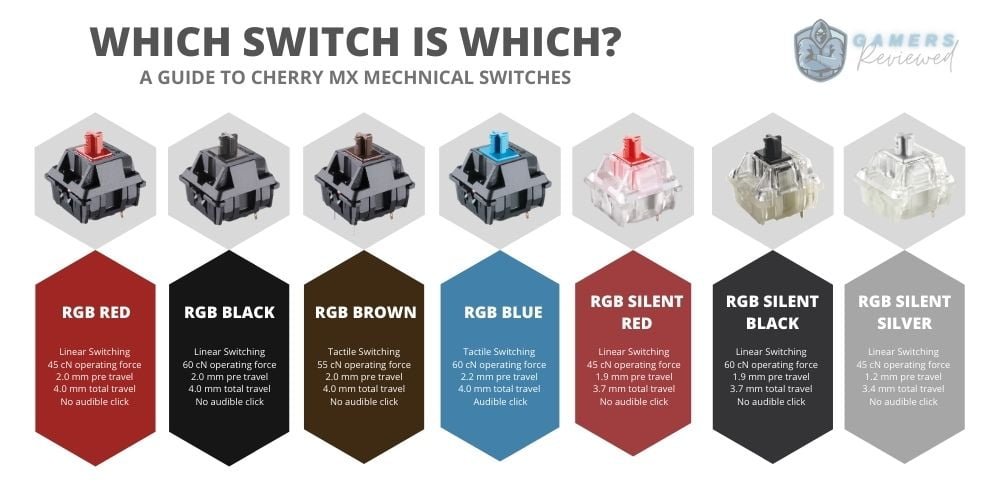 Cherry MX Red
The Cherry MX Reds are a popular choice amongst gamers looking for linear switches without any feedback. They require around 45g of actuation force and have an actuation distance of 2 mm. The keys are silent and light to touch which makes them a good option for any gaming genre. There is also an additional variation out now called the Cherry MX Red silent, which promises to be even quieter.
Cherry MX Black

The Cherry MX Blue is a switch that provides tactile feedback that is precise with its 2.2 mm actuation distance and 60g of actuation force. MX Blues are generally a favorite amongst typing enthusiasts because of the sound they make once reaching the actuation point. With enough practice, you'll be able to take your typing speed to the next level and know exactly when you've hit every keystroke.
Cherry MX Brown
The Cherry MX Browns are a good middle ground between the MX Red and MX Blue switches. They are tactile switches that have a nice little bump, but unlike the MX Blues, do not generate a lot of sounds. The result is a mechanical keyboard switch that allows for fast typing, but also precision and silence. Their actuation distance is the same as the MX Reds at 2 mm and they have a smaller actuation force compared to the MX Blues at 55g. If you're caught between low sound, but also want the benefits of faster typing, then the MX Browns might be worth checking out.
Cherry MX Blue

The Cherry MX Blue is a switch that provides tactile feedback that is precise with its 2.2 mm actuation distance and 60g of actuation force. MX Blues are generally a favorite amongst typing enthusiasts because of the sound they make once reaching the actuation point. With enough practice, you'll be able to take your typing speed to the next level and know exactly when you've hit every keystroke.
The only drawback is that they're incredibly loud. If your microphone is particularly sensitive, or you have people around you, there's a really good chance they're going to hear you typing away on your keyboard. The MX Blues are best for those living alone, or gamers playing single-player games with their microphone disabled.
Cherry MX Silver (speed)
The Cherry MX Silvers are linear switches that have an actuation force of 45g like the MX Cherry Reds. They differ however with their actuation distance of only 1.2 mm. Theoretically, this means gamers should be able to type faster with less distance to travel. These silver switches have been designed primarily for gaming, so if you think you won't have any accidental keystrokes, and your typing skills are up there, feel free to give it a go.
Kailh Switches
If you're on a budget you might not be able to get original Cherry MX switches. Fear not, there is a Chinese manufacturer alternative called Kaihua Electronics. The company has been around for more than 25 years and their mechanical switches can be found in a lot of keyboards nowadays. They also follow the same color pattern as Cherry MX, so if you like the description of the "Cherry MX Blue", you'll be able to find the "Kailh Blue Switch" alternative.
Since these switches are "cheaper" they won't be as high-end as Cherry MX, but this doesn't mean they won't get the job done. They still feel really good and for the price, you'll enjoy all the mechanical keyboard benefits within a budget range.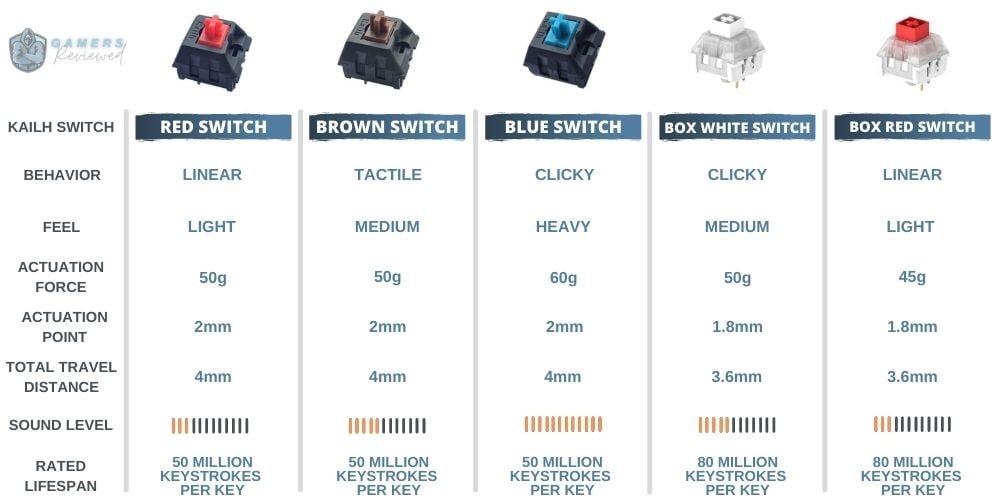 Razer Switches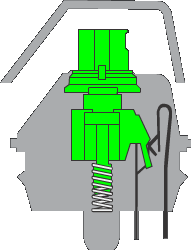 Previously we mentioned that the most common switch color variations are: red, blue, and brown. In 2014, Razer started producing their own switches and came out with: green, orange, and yellow. They follow the same principles of linear and tactical switches but add a little variation compared to MX Cherry switches.
Razer Green Switch
The Razer Green Switch is a rebranded Cherry MX Blue. They're tactile and clicky, but unlike their cousins have less actuation distance and force. The result is a switch that is now faster and quicker to activate, but also accurate with its distinct sound.
Razer Orange Switch
The Razer Orange Switch is similar to the Cherry MX Brown, in that they are quiet but have a little 'bump' to them. They again have the benefit of less actuation force at 45g when compared to MX Cherry Brown's 55g, and also a lesser actuation distance of 1.9 mm. Think of the Razer Orange switches as an MX Cherry Red with a small tactile feeling to them.
Razer Yellow Switch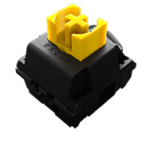 The Razer Yellow Switch is linear and comparable to the MX Cherry Red. They have the same actuation force of 45g, but an even smaller actuation distance of 1.2 mm. This could be risky for those prone to accidental keystrokes because the key activation distance is much lower now.
Logitech Switches
Logitech is another mechanical keyboard manufacturer that has produced its own switches. The company has come out with a Romer-G and GX series that again, closely resemble the titans over at MX Cherry. Logitech has also promised 70 million keystrokes per key guarantee, so you can expect these switches to last a long time.
Romer-G Tactile Switch
The Romer-G Tactile switches are close in comparison to the Cherry MX Brown switches, however, they have a lower actuation force and distance. The Romer-G Tactile only needs 45g of pressure to push down, and the actuation point is 1.5 mm. The tactile variant is therefore a hybrid between MX Cherry Red and Brown. This particular key would therefore be a good all-rounder for both gaming and typing.
Romer-G Linear Switch
The Romer-G Linear switches have similar specifications to the MX Cherry Reds with a 45g actuation force, 1.5mm actuation distance, and little to no resistance when activated. They're made for gamers in mind, by removing the tactile point, your keyboard stays whisper quiet as you type away during those late-night sessions.
GX Switches
If you don't want a variation of the classic Cherry MX switches, then Logitech also has you covered with their GX series. The GX Blue, GX Red, and GX Brown switches are replicas of the MX Cherry series in all specifications and characteristics. The only difference being that Logitech promises 70 million keystrokes per key warranty, while Cherry guarantees up to 100 million keystrokes. Logitech has managed to make these feel as close to the original as possible and also saving you a few bucks while at it.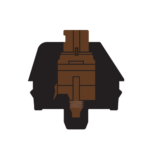 SteelSeries Switches
SteelSeries is a well known peripheral brand so it was only a matter of time before they started making their own variations of mechanical keyboards and switches. If you're looking for something different, then the SteelSeries OmniPoint would be worth looking at if you're all about customization. Additionally, SteelSeries also manufactures classic red, blue, and brown switches for those set on MX Cherry switch alternatives.
SteelSeries OmniPoint Switch
The SteelSeries OmniPoint switch has shown some great innovation in the mechanical keyboard world. What separates it from your standard switch is that you can decide at what point the switch is going to actuate. The OmniPoint switches are linear and can be set within 0.4 mm and 3.6 mm for each key. SteelSeries has used magnet sensors to accomplish this, whereby these sensors measure the pressed distance at all times. The OmniPoint switch is not very common right now, but you will find them in the SteelSeries Apex Pro keyboard. Perhaps in the future, other mechanical switch manufacturers will follow this trend.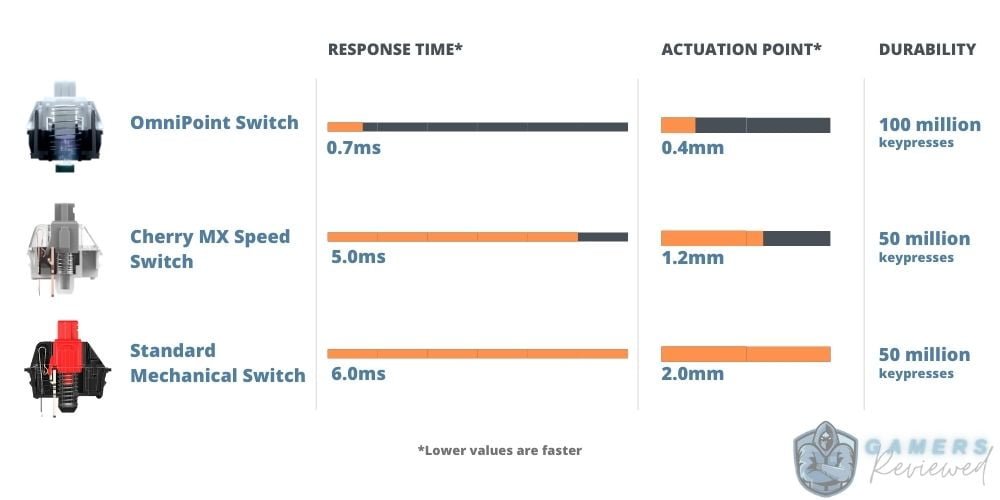 SteelSeries QS1 Switch
If you don't want a customizable linear switch then you can also opt for the cheaper SteelSeries QS1 Switch. They are comparable to MX Cherry Red with the same actuation force, but a slightly shorter actuation distance of 1.5 mm. They're also manufactured in cooperation with Kailh so you can expect the same quality. The QS1 Switches are therefore quiet and excellent for gaming, but with such a small actuation distance and no tactical bump, the switches could be prone to accidental keystrokes.
SteelSeries QX2 Switch
SteelSeries mechanical keyboards also include the classic red, blue and brown switches. In this case, they have been created with the help of Gateron, and are close replicas to the linear, tactile, and clicky switches found in the MX Cherry Series. You're probably noticing a pattern here, most brands will have their own variations to mechanical switches, but they will always try release switches that closely resemble MX Cherry. If you're interested in tactile or clicky switches. then you'll find them in the SteelSeries Apex 7 mechanical keyboard. On the other hand, the linear switches were included with the release of the SteelSeries Apex 750.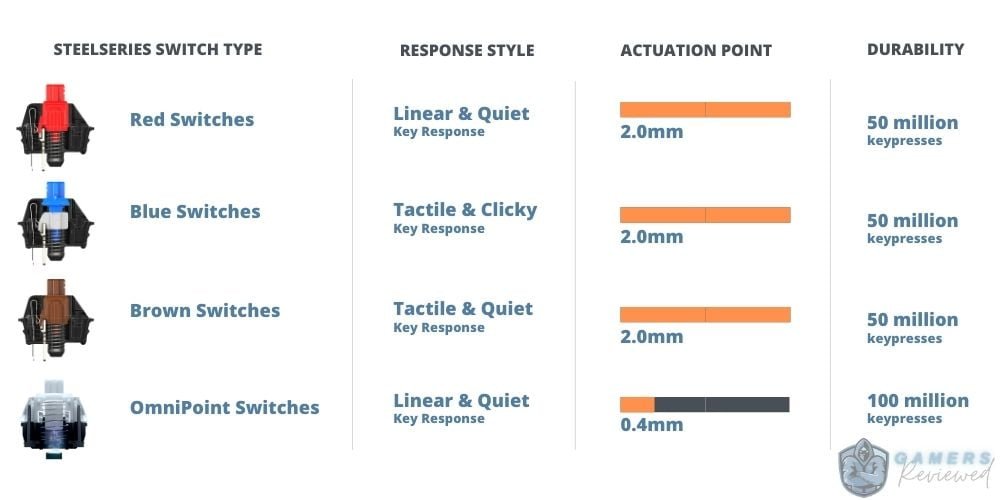 Low-Profile Switches
Throughout the various different switch variations, you may see brands advertising that their mechanical keyboards are "low-profile". These low-profile mechanical keyboards have flat switches and are generally smaller / thinner keyboards. The actuation distance is, therefore, shorter when compared to normal 1.5 to 2 mm switches. Low-profile switches can also come in tactile, linear, or clicky, so if you're a fan of a more "laptop" style keyboard, then maybe low-profile would be a good crossover.
Optical Switches
Although there has been a lot of innovation and variations in the mechanical keyboard industry, nothing quite compares to the introduction of optical switches (otherwise known as opto-mechanical switches). What separates these switches from what we have seen in the past is that they are activated by a signal of light. Classic mechanical switches are triggered through metal-to-metal contact, and they cause physical degradation over time. The new light technology now gives a whole new meaning to longevity in keyboards, and furthermore leads to even more customization through measuring the distance of a keypress.
For purposes of this section, we have included a few Razer products that have been manufacturing optical switches since 2018. They're most commonly found in the Razer Huntsman, Razer Huntsman Elite, and recently, the Razer Huntsman V2 Analog.
Razer Clicky Optical Switch
The Razer Clicky Optical switch is exactly what the name suggests, it provides a distinct audible click for every keystroke and is somewhat similar to the MX Cherry Blue Switches. The actuation force is 45 g and the actuation distance is 1.5 mm, the only difference being that these keys are activated through a signal of light, and Razer is going with a purple concept instead of Blue.
Razer Linear Optical Switch
As you probably guessed, the Razer Linear optical switches are alternatives to MX Cherry Red linear switches. They have a low actuation distance of 1 mm and an actuation force of 40 g, so you'll find that these switches are perfect for quick typing with minimal effort.
Razer Analog Optical Switch
Here's where things get interesting. The Razer Analog Optical Switch is capable of measuring how far a key is pressed. What this means is that you're going to have much more control while gaming, whereby it can be configured to register two actions for different actuation points of a single keystroke. Think of it as a joystick, but every single key has that amount of control and precision. If you're interested in Razer Analog Optical Switches, they were recently included with the release of the Huntsman V2 Analog.
How to Clean a Mechanical Keyboard
Once you get your keyboard, you'll probably be using it every day. Like any device, it's bound to pick up some smudges, dirt, and dust. We have compiled this quick step-by-step guide on how to properly care for and maintain your mechanical keyboard, so you'll be typing away for years to come.
Simple Care and Maintenance
If you're planning to keep your gaming workstation clear of foods and liquids, there will be a lot less dirt to worry about. With clean fingers the only real problem you'll find accumulating in your keyboard is dust. In this case, all you'll need is a microfibre cloth and a vacuum cleaner. Simply unplug the keyboard, vacuum as much dust as you can between the keys, and lightly wipe over the keys when you're finished. Eventually, your keyboard might need a more thorough clean, but this will get the job done and keep your keyboard in good condition.
Unfortunately, for most of us, we are going to eat and drink around our keyboards. Maybe you're watching movies and eating takeout, and suddenly you need to reply to a message that has popped up on your screen. In those few seconds, your keyboard can become oily, and eventually, dust will settle in creating a clutter of brown residue between keys. So how do we give our keyboards a thorough cleaning? And will we be able to use basic household items to keep costs low? Follow the steps below for the easiest way to properly clean a mechanical keyboard.
Step 1: Gather your equipment
In order to clean your mechanical keyboard, you will need – a bowl of water; microfibre cloth; denture tablets (dishwashing liquid, soap, or laundry detergent are fine too); cotton swabs; a soft brush or duster; and a keycap puller (usually included with your mechanical keyboard).
Step 2: Remove your keyboard from the PC
Always remember to turn off your computer and remove the keyboard before you start cleaning. Even if you're just using a microfiber cloth to wipe over the keys, you don't want random letters or inputs causing havoc on your PC. Furthermore, once you add in some water for cleaning you risk a short circuit. Once the keyboard is removed from the PC, set it down on a clear open space for cleaning.
Step 3: Take a photo of your mechanical keyboard
Besides the benefit of seeing the before and after, it is important to take a picture of your mechanical keyboard. You're going to be removing the keycaps soon, so you'll need to know how to correctly reseat them again.
Step 4: Remove the keycaps
Removing keycaps can be scary at first. For beginners, it could feel like you're going to break your mechanical keyboard. Most brands include a keycap puller, but if they didn't, you can simply buy one online or find them at a local store. Once you have your keycap puller, insert it under each key, and pull straight up. The process is quick, and you only need to be on the lookout for larger keys. The "Enter" or "Spacebar" keys might have additional wires underneath them that must be taken out too. It is possible to remove keycaps with your fingers, but we suggest getting a puller to avoid any unlucky breakages.
Step 5: Put the keycaps into a bowl of water
Once all the keycaps have been removed the next step is to put them into a bowl of warm water. Remember we asked you to have some denture tablets, dishwashing liquid, soap, or laundry detergent nearby? Well, add them into the water with the keycaps and let it stand for 4 hours. We highly recommend using denture tablets, they are the most efficient at removing dirt and bacteria without leaving any scratches. You can also remove your keycaps after an hour of soaking, but if you want a perfect result, aim for a few hours.
Step 6: Clean the spaces on your keyboard
Now that all the keycaps are soaking, it is time to turn your attention to the keyboard. Begin by giving the keyboard a little shake and turning it upside down. This will allow all larger particles of dirt or dust to fall out. Next, get your soft brush or duster, and lightly go over the spaces in between the keys. Once you're done brushing off the keyboard, it is time to use your microfibre cloth. Apply some water to the cloth to make it slightly damp, and when it feels moist, wipe between the keyboard spaces as best as you can. The final step is to get your cotton swobs and for those hard-to-reach places. Again, you can moisten it to remove the last bit of dirt from the mechanical keyboard.
Step 7: Clean the case and let it dry
Remember it's not only your keycaps and the spaces in between that will get dirty over time. You also need to use your microfibre cloth to clean the mechanical keyboard case underneath and on the sides. Check your cable too, it may be removable, and wipe off any dust that has accumulated. Once you've finished wiping off the keyboard, you can turn it upside down and let it dry on a towel. It's best to keep it upside down so no dust or particles fall inside the keyboard while you're waiting.
Step 8: Put the keycaps back on
When you're satisfied that your keycaps have soaked long enough, run them under cold water, and leave them out to dry. Depending on the temperature, keycaps can take a full day to dry. If you want to speed things up, you can dry each key individually with a paper towel. Once you're certain that each key is dry, go back to the picture of the keyboard you took in step 3 to ensure you're reseating the keys in the correct positions. In order to reseat a keycap, simply push it down until you hear a click.
Step 9: Reconnect your mechanical keyboard
Now that your mechanical keyboard is clean, it is time to plug it back into your PC. If your mechanical keyboard does not have onboard memory, there is a chance the RGB colors will revert back to default. Don't worry, you have not broken your keyboard, you will just have to adjust it back to your preference. Once everything is in order, enjoy your restored mechanical keyboard.
---