G.SKILL is a leading memory module manufacturer that was established in 1989. Since then, they have expanded into the PC gaming peripheral business and have now released their first gaming mouse titled the RIPJAWS MX780. With its height-adjusted & ambidextrous design, interchangeable side grips, fully customizable RGB lighting, 8200 DPI limit, and 8 programmable keys, will the RIPJAWS MX780 satisfy all your gaming needs? Keep reading below and find out whether G.SKILL has delivered on their claim of a gaming mouse that is built with durability and practicality in mind for the ultimate gaming experience. 
Something very common about the G.SKILL RIPJAWS MX780 design is that most critics are labeling it as some form of Autobot or Decepticon because it might be taking inspiration from Michael Bay. What they mean by this is that the mouse is technically a transformer, because it can be configured to either hand with its removable side grips. These side grips are also not symmetrical like many gaming mice out there, but rather G.SKILL has included two sets of left-and-right side grips that are attachable through magnets. 
You may be wondering how sturdy these magnets are, and if the side grips will fall off when you're gripping the mouse tightly in high-pressured gaming moments. The good news is that the side grips remain securely in place and that there is minimal shake to them unless you're giving the mouse borderline death grip. The RIPJAWS MX780 also features an aluminum bottom plate and soft-touch plastic shell for the buttons, sides and palm rest. The aluminum plate gives the mouse a nice high-end look while providing a smooth glide on standard mouse pads. Additionally, the soft-touch plastic is comfortable for long gaming sessions and didn't cause our hands to perspire or leave behind any messy fingerprints.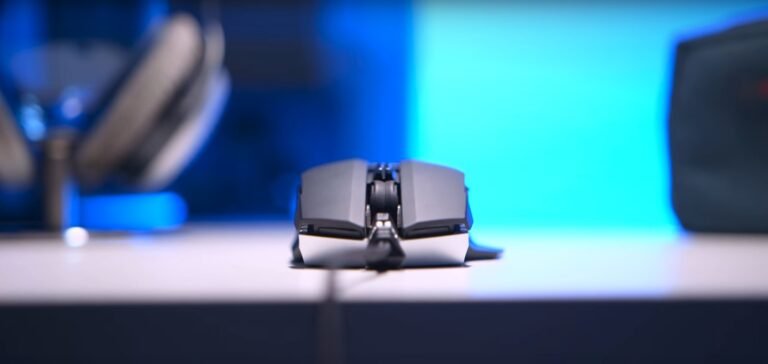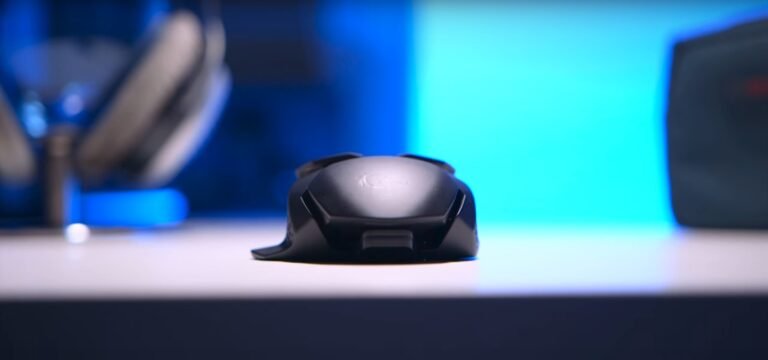 What really separates the G.SKILL RIPJAWS MX780 from the competition in this price range, is the inclusion of a height-adjustable design. We don't really see this as often in mice, but it's a warm welcome to those ready to take their customization to the next level. When unboxing the MX780 you'll find a tiny hex wrench that can be used to change the height of the palm rest, allowing you to get the perfect fit for your grip style.
Also included are two 4.5g weights that can be inserted on either side of the mouse by removing the side grips. The mouse weighs 111g by default but can be bumped up to 120g for a heavier feel. Overall, the mouse will fit nicely for either claw or palm grip, and the addition of extra weights might make this a favorite for those who prefer heavier peripherals.
When buying a gaming mouse one of the most important considerations are buttons. The more buttons your mouse has, the more binds and commands you can attach to your fingertips. The result is faster game play commands and perhaps a competitive edge if used correctly. The G.SKILL RIPJAWS MX780 has an impressive 8 programmable button design that includes: 2 buttons on the top, 2 buttons on each side, 1 clickable scroll wheel, and finally 1 DPI switch button located behind the scroll wheel. 
G.SKILL has promised a 'high-quality' gaming mouse and the buttons are no disappointment. The 2 top facing buttons which are going to be used most frequently are rather quiet and provide a satisfying click to them. They are easy to push down, but not sensitive to where there would be any accidental clicks.
The balance is just right and the same can be said for the mouse scroll wheel. The scroll wheel has a line in the middle that helps keep your finger centered, and when pushed down also creates a quieter than usual sound that wouldn't be distracting. The side buttons aren't as impressive though and are somewhat thin in comparison to the rest of the mouse. They are a tad louder than the top buttons, but it shouldn't get in the way of your gaming experience.
The RIPJAWS MX780 Gaming Mouse can also be customized using G.SKILL's RGB software. Here you will be able to choose between 24 colors, and adjust the brightness/effects to your preference. You will also be able to change the polling rate of the mouse which can be altered between 125Hz, 250Hz, 500Hz, and 1000Hz. The higher the polling rate, the more responsive and smooth the mouse may feel.
However, this will consume more resources, so those with older computers can have the option to lower it in exchange for better performance on the system. It should be noted that most standard office mice have a default polling rate of 500Hz or 1000Hz, so it's nice to see G.SKILL trying to accommodate budget gamers.
| | |
| --- | --- |
| Dimensions (L x W x H) | 5.12 x 2.76 x 1.5 in (130 x 70x 38 mm) |
| With Side Grips | 5.12 x 3.66 x 1.5 in (130 x 93 x 38 mm) |
| Weight | 3.9oz / 111g (4.2oz / 120g with weights) |
| DPI | 100 - 8200 |
| Polling rates | 125Hz/250Hz/500Hz/1000Hz |
| Number of buttons | 8 |
| Cable length | 6 ft (1.8 m) braided |
| Sensor | Avago ADNS-A9800 |
| Main switches | Omron D2FC-F-7N(20M) |
| Wheel Encoder | Alps |
| Mouse feet | PTFE Glide Pads |
| Warranty | 2 year limited warranty |
Performance and Final Verdict
The G.SKILL RIPJAWS MX780 offers a strong build structure and suitability for left-handed gamers. The main buttons are high quality and the scrolling wheel feels really comfortable. It is on the larger side of most gaming mice so those with smaller hands should possibly buy with caution, considering the 5.12 x 3.66 x 1.5 inch size. 
There are some drawbacks while gaming and this comes in the form of the braided 6-ft (1.8 m) cable and outdated laser sensor. The cable is stiff and thick and may cause resistance if it gets tangled with your monitor outputs. We felt as though anything that the mouse caught onto made the RIPJAWS MX780 feel heavy and sluggish. In order to compensate you can get some good cable management going and avoid all conflicts with other cables. 
In addition to the cable, the Avago ADNS-9800 sensor is somewhat dated when taking a look at what is currently on the market. The G.Skill RIPJAWS MX780 is by no means a new release, so it can be forgiven when compared to newer optical sensors. But what does this mean for gaming? Well, in FPS titles where precision is everything, the A9800 might not be as accurate as you'd like. It is playable and the casual gamer might not be able to notice a difference, but if you're dedicated to esports titles then we may suggest looking elsewhere. 
But what the RIPJAWS MX780 lacks in new technology it makes up in features and reliability. The mouse is still an excellent option for those wanting good customization and an everyday peripheral that will last a long time. G.SKILL has made a high-quality product here and we would suggest getting the RIPJAWS MX780 over your 'unknown branded' RGB mouse that saves a few dollars. If you jump between casual games, Netflix, web browsing, and work, then the RIPJAWS MX780 might have everything you're looking for in a gaming mouse.