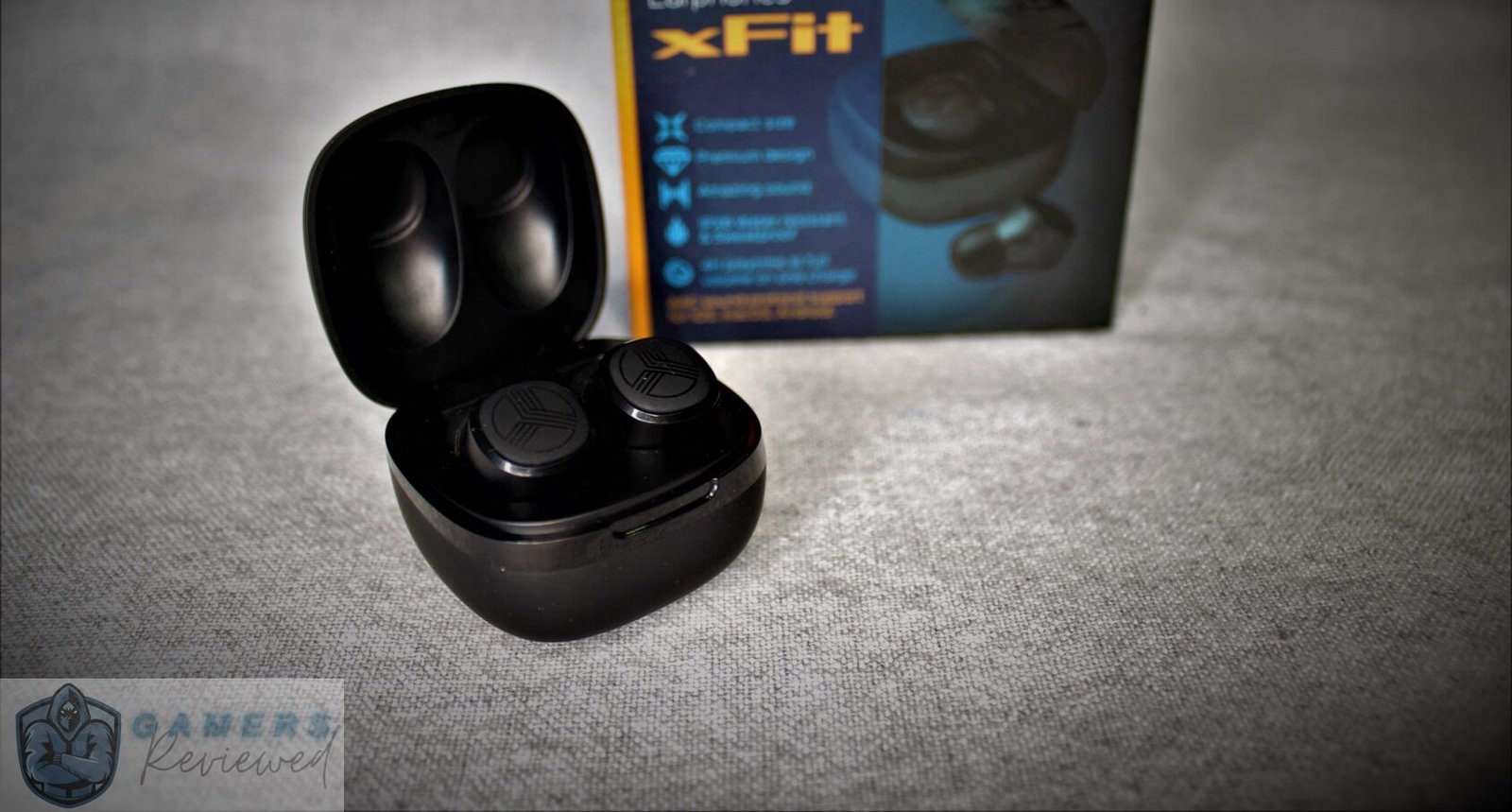 TREBLAB xFit Review
The Bottom Line:
If you're searching for an alternative to Apple AirPods, the TREBLAB xFit wireless earbuds are definitely the way to go! At a fraction of the price of AirPods, the xFit earbuds feature an excellent build quality, with an equally matched sound quality. While best suited towards mobile gamers, they are also perfect for working out or your daily commute thanks to their IPX6 waterproof rating. At this price range, the value for money is unmatched and we doubt you'll find anything better!
Whether you're a gamer or music enthusiast, the premise of wireless earbuds will likely make you think of Apple AirPods, and any alternative brand is simply a 'knock-off'. Well, what if there were a pair of earphones that were a third of the price and could offer an excellent build and sound quality to match? If you're in the market for a new pair of wireless earbuds, whether it be for your favorite twitch streams or music playlist, then the TREBLAB xFit might be worth looking into. With its extended battery life, IPX6 rating, Bluetooth 5, and crisp clear audio, the TREBLAB xFit has everything that you need for an all-purpose wireless headset.
Design
The TREBLAB xFit wireless earbuds have a matte black minimalistic design. They look premium and have no excessive color schemes or patterns that would attract unnecessary attention. The earbuds are marketed to those who are interested in sports, but they're also suitable for business professionals and ordinary consumers.
TREBLAB has emphasized the compact design… and they weren't kidding! Upon further inspection of the earphones, you'll immediately notice how lightweight they are. Each earbud is approximately 0.13 ounces and the size of a US quarter. Furthermore, the charging case is tiny in its own right, being able to fit into the palm of your hand. Want to know what's crazier? It's actually smaller than the charging case bundled with AirPods!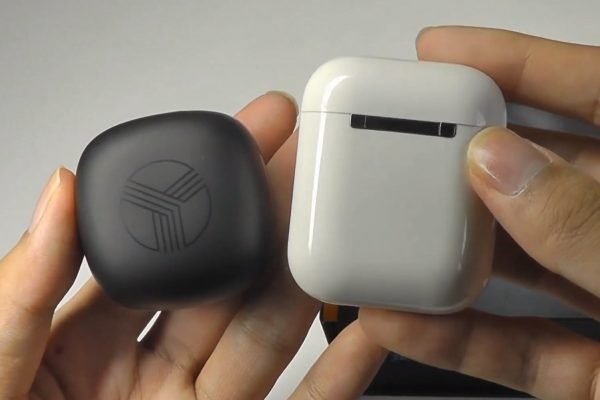 Similar in appearance to the actual earbuds, the charging case has been made with a black rubber coating. On the front of the case, you will find LEDs that give an indication of battery life and a Micro-USB port on the rear. The earbuds are also magnetically fixed to the case while charging and will emit a red LED status.
Since these are wireless earphones, there isn't any in-line controller so you'll need to make adjustments on the earbuds. You can do this by clicking the TREBLAB logo button found in the middle of the xFit earbuds. Many people aren't fans of multi-function buttons, however, in this case, we think it's a great way to keep the design compact and clean. The TREBLAB xFit multi-function button will allow you to pause/play music, skip tracks, answer calls, and power on/off the device. Unfortunately, there is no volume scroll wheel so you will have to control the sound on the device it is connected to.
Fit and Comfort
Most in-ear monitors or earbuds have an ergonomic curve to them so they can slide in straight, but the TREBLAB xFit is inserted sideways. We have spoken about their compact design and how TREBLAB has wanted to keep them as light as possible, but how does this influence the comfortability? Well, the truth is they've just included three different ear tips sizes, and they simply work.
At first, we were a bit skeptical about the "fitness" aspect of the headphones, presuming any physical activity might have these earbuds popping out. Surprisingly, the earphones fit snug and stay inside your ears without any discomfort for long periods of time. If you're going to use these while commuting or simply relaxing in bed, there's no need to worry. The TREBLAB xFit earbuds are also IPX6 waterproof rated, which means they will withstand sweat just fine!
Just a quick note on the design and fit aspect, the TREBLAB xFit also doesn't have that "bulky" look to them, like you're wearing something too big for your ears. They look quite natural and stick out ever-so-slightly, so won't feel like you're a special ops soldier walking down the road with these!
Technical Specifications
| | |
| --- | --- |
| Battery | 50 mAh (earbud) 550 mAh (case) |
| Playtime | 5 hours per charge, 25 hours in total |
| Charging Time | 1 hour |
| Frequency Response | 20 Hz – 20 kHz |
| Voice Assistant | Siri and Google Assistant |
| Signal Range | 33 feet |
| Warranty | 1 year |
| Colors | Black |
Sound and Performance
The TREBLAB xFit wireless earbuds are bundled with neodymium drivers that provide exceptional sound quality overall. If you want a clean sounding pair of earphones that are perfect for listening to streams, podcasts, or less bass-focused music, then you're going to enjoy these! This isn't to say that the xFit's lack in bass, but simply they're not going to provide any thumping sound found in most 50 mm over-ear headphones.
Gamers will also enjoy these wireless earphones, should they intend on watching their favorite Twitch streamers while on the go. In-game and microphone audio from streamers can easily be distinguished and there isn't any distortion between frequencies. The same can be said for music, the mids and highs excel with various genres of music, only falling short with deep bass tracks. High female vocals are rich without being too piercing, and string instruments are vibrant without overwhelming other parts of the audio. In terms of gaming, we also tried playing Clash of Clans with these earbuds and still had a really enjoyable experience when compared to our Razer Kraken's which are more 'bass focused'.
The Treblab xFit has a built-in microphone so you'll be able to take calls or join a Discord server. The only drawback is their sensitivity, in that others will be able to hear background noise, should there be any present. On the other hand, the TREBLAB xFit wireless earbuds do have a very nice noise cancellation build, so you will be able to block out anything going around you. In order to combat the microphone sensitivity, we would just advise taking calls or speaking to others in a quiet environment.
Finally, we tried an audio sync test in order to determine if there was any delay as the earbuds are connected through Bluetooth. The delay is approximately 0.3 seconds and shouldn't be noticeable for most. The Bluetooth version 5 also allows you to pair the device from up to 30 feet away before there's any interference or audio breaks.
Battery Life
TREBLAB says that these earbuds can last up to 5 hours on a single charge, however, they can actually go longer if you're listening to them at lower volumes. The case takes around 2 hours to charge and will provide 5 full charges. In other words, the earbuds will take around an hour to charge, so you can expect at least 25 hours of playtime through 5 charges. There's also a 'quick charge' feature that can improve earbud battery life in 15 minutes. When leaving them inside the charging case, we were able to get them from 25% to 60%.
What's in the Box?
TREBLAB xFit Charging Case
2 x TREBLAB xFit Earbuds
USB to Micro-USB Cable
3 x Ear Tip Sizes
User Manual & Warranty Card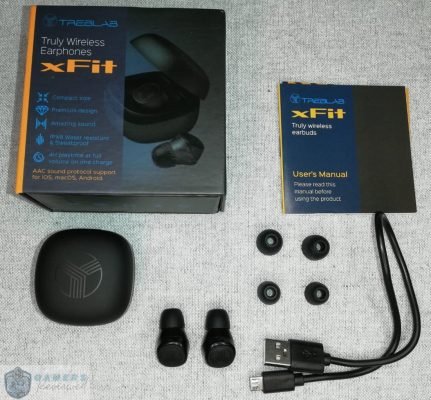 Conclusion
The TREBLAB xFit wireless earbuds are a premium-looking pair of earbuds that offer a sleek professional look catered towards anyone. If you're searching for an alternative to Apple AirPods, these are definitely the way to go! The TREBLAB xFit also comes with a nifty IPX6 rating so you'll be able to use them while working out or even if caught in the rain while commuting.
Excellent build quality aside, the sound is great and will cater towards music, videogames, and basically anything you'll throw at it. The TREBALB xFit wireless earbuds are marketed for mobile phones, so these shouldn't be a replacement for your PC or console audio equipment. However, if it is your first time going for a wireless mobile headset, we doubt you'll find anything better at this price range!
TREBLAB xFit Wireless Earbuds
At a fraction of the price of AirPods, the xFit earbuds feature an excellent build quality, with an equally matched sound quality!