In 2017 Razer introduced their Basilisk series to win over competitive gamers with high-performance gaming mice. In 2019 they released the Basilisk x HyperSpeed, a wireless mouse that promises nothing but raw performance and a minimal yet comfortable design. Fans of the Logitech G502 will immediately find favor here as it seems the mouse has been influenced greatly in terms of shape and style. At a budget-friendly cost of around 60 dollars, can the Razer Basilisk X HyperSpeed be a viable option for a wireless gaming mouse?
| | |
| --- | --- |
| Measurements (LxWxH) | 5.11 x 2.36 x 1.65 inches (130 x 60 x 42 mm) |
| Weight | 2.9 ounces (83g) |
| Sensor | Advanced 5G optical sensor |
| Switch Type | Mechanical |
| Buttons | 6 programmable |
| Software | Razer Synapse 3 |
| Default DPI | 800, 1800, 3600, 7200, 16000 |
| Wireless Connectivity | 2.4GHz and Bluetooth |
| Warranty | 2 years |
If you're familiar with the Basilisk range you'll immediately notice that the HyperSpeed looks very similar to the Ultimate and V2 editions. The only real difference being that the HyperSpeed has no RGB and is powered by an AA battery. RGB drains the battery so we would imagine most would agree with this little alteration.
The mouse has a sleek matte black look with added rubbery padding on the sides for grip. Like the Logitech G502 the left side of the mouse has a small thumb rest which will allow you to 'lock into' the HyperSpeed for added stability. The HyperSpeed is 5.11 inches in length, 2.36 inches in width, and 1.65 inches  in height (130 x 60 x 42 mm), and weighs 2.9 ounces (83g) without the battery. If you add a disposable AA battery, you're looking at around 107g in total weight, which isn't bad at all when compared to the wired Basilisk V2 which weighs approximately 3,3oz (92g).
The Razer Basilisk x HyperSpeed has 6 programmable buttons. The main left and right buttons are mechanical, which have a lifespan of up to 50 million clicks. They are responsive and easy to click and feel great in videogames and general browsing. On the left side, you will find two additional programmable buttons. They have some 'squishiness' to them but feel natural with the positioning of the thumb rest. The scroll wheel is grippy and rugged, yet smooth enough to apply multiple strokes in quick succession. Finally, there is a built-in dpi button which can be customized through Razer's Synapse 3 software.
As previously mentioned, the HyperSpeed is very similar to the Logitech G502 and that's for good reason. The G502 is an all-purpose mouse that is a favorite among all game types and grip styles. The Razer Basilisk X HyperSpeed tries to cut down the cost here while still providing that same level of quality and features to match.
Starting with grip, because of its larger than average size, the HyperSpeed is going to be suitable for both palm and claw grip. The rubber padding on the side gives the mouse added control, so those who get clammy palms while gaming should be fine. It should be mentioned here that the 'thumb rest' can get uncomfortable when squeezed too tightly in high-pressure situations. If your thumb is particularly wide you could find it being suffocated by the mouse if you push too hard. However, if you're coming from anything near the G502 design you shouldn't have a problem.
At the bottom of the mouse, you will find the mouse feet and dual wireless connectivity switch. The mouse has 4 feet strips which provide a good gliding experience with little to no resistance depending on your mousepad. A rather unique feature is the dual 2.4GHz and Bluetooth modes. The two allow you to interchange between using a dongle for 2.4GHz wireless, or Bluetooth which can be used on the go. This is a warm welcome to those who want to have a mouse that can pair to multiple devices.
With all these features surely there must be a catch, right? How responsive can a budget gaming mouse be? Well, Razer has fitted the HyperSpeed with a 5G advanced optical sensor which has up to 16000 dpi and 40G acceleration. If we're being honest here, when we compared it to the Razer DeathAdder V2 which sports the more premium Focus+ optical sensor that reaches 20000 dpi, we couldn't tell a difference. There's no delay, the tracking speed is amazing, and it feels like you're using a wired gaming mouse. The value for money is simply unreal.
Software and Battery Life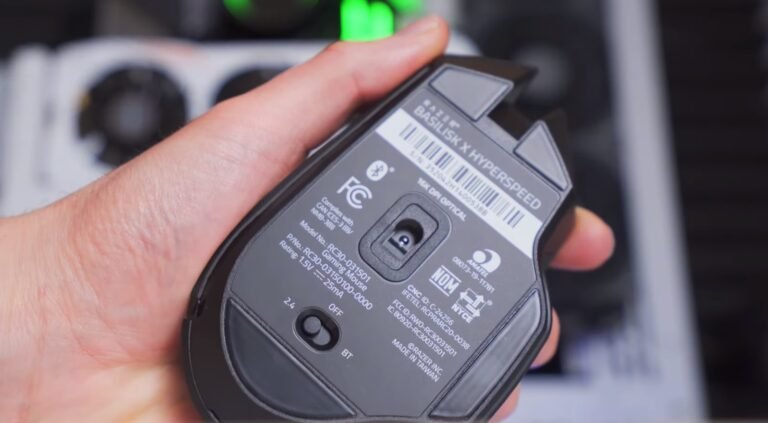 The Razer Basilisk X HyperSpeed comes bundled with factory dpi settings which are set at 800, 1800, 3600, 7200, and 16000. If you would like to further customize your settings you can download Razer's Synapse 3 software. In the software, you'll be able to set the number of dpi levels, for example, 2 stages at 800 and 1600 dpi. Furthermore, you'll be able to adjust the polling rate to your preference. The HyperSpeed also has onboard memory, so you'll be able to save your custom settings to the mouse once Synapse 3 is closed. 
We spoke about the lack of RGB on the design, and that was for good reason. The Razer Basilisk X HyperSpeed is not the Basilisk Ultimate edition which features a nifty mouse charging dock. The budget-friendly HyperSpeed had to cut costs in certain areas and that's in its need for AA batteries. With that being said, the mouse still performs well in terms of battery life. When using it in Bluetooth mode you can expect up to 450 hours, and 285 hours using the 2.4Ghz dongle.
The Razer Basilisk X HyperSpeed is an excellent choice for those looking at a budget wireless gaming mouse. If you're a fan of the Logitech G502, or its wireless edition is just out of your budget range, then the HyperSpeed will also be a great alternative. The 5G optical sensor is precise, responsive, and quick enough to ensure you'll be racking up frags in no time. With its sturdy build quality, good tracking performance, and custom features, the Razer Basilisk X HyperSpeed is going to be hard to compete with at this price range.